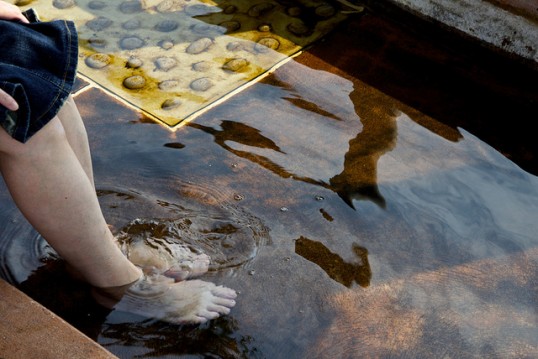 Saying "I'm not in a very good place for Lent" is a bit like saying "Winter is cold in the North." Yes, it's true every year—but it has been bitterly true this year.
Most of this problem (the Lent problem, not the winter problem) can be blamed on my personal misconceptions about the season: that it's a big, sad apology fest—a time set aside for the likes of me to make up for all the ways I've messed up and haven't been good enough or sorry enough since last Easter.
Yes, I've certainly messed up in the past year, but it's also been a year that has left me feeling particularly wounded. And when you're feeling wounded, a big apology- fest—taking on the blame—is like so much salt in the wounds. To be perfectly honest, I'm sort of feeling like God should be apologizing to me—or at least he should go first. I always go first when one of my daughters and I have gotten into a snarly tangle we've both played a part in. I go first because I'm bigger and wiser—because I know how important apologies and forgiveness are, and because I want to set an example. God is clearly even bigger and better at these things than me.
But maybe Lent isn't all about apologizing for the messes of the past year. Maybe I need to reframe it. My friend Micha Boyett, for example, describes Lent in her recent blog post not as a "big, sad apology fest," but as an invitation to sit together in the mystery—to be in a place where we can prepare for the healing Easter brings.
"…how do we clean those wounds before covering them? How do we sit in the sting for a while so that we can move into the healing?… We are invited to let Lent clean the wound so Easter can bring the healing."
Micha's use of wounds as a metaphor sits exactly right with me. I feel battered, wounded. No wonder the thought of devoting a season to being extra sorry doesn't appeal. No wonder I'm not warming up to anything that smacks of blaming the victim—of feeling like I somehow messed up and now it's on me to fix it.
Thinking about wounds brings to mind one I had on my finger a few weeks ago. A tiny crack in my cuticle became infected—badly enough for my entire finger-tip to turn bright pink and swollen for nearly a week, throbbing with pain even when it wasn't being used or getting bumped. (The many times it did get bumped sent shocks up my arm). Perhaps I should have gone to the doctor, but I turned first to the Internet, which led me to the conclusion that pretty much the only thing I could do was soak my finger in warm epson salt "baths" three times a day, then keep it covered and protected from further damage while I waited for it to heal.
Maybe Lent—especially Lent this year, for me, for many of us—is like an extended epson salt soak. For my infected finger, it wasn't an instant fix, but the salt soothed and comforted it, surrounding the hurt in warmth. The soaks also provided time for my finger to be removed from the rigors of life—from the many everyday moments when life bumped up against me, reminding me of the existence of my wound. And at the risk of pushing this metaphor too far, I'm going to add this thought that popped into my mind: Tears are also salty in nature, and pain and healing are often part of a single process.
Sometimes (often!) we need special care, and hope that healing is on its way. If that's the invitation to Lent that your weary heart needs this year, I hope you will join me for a healing soak.
*  *  *  *  *
The Spirit of the Sovereign Lord is on me,
because the Lord has anointed me
to proclaim good news to the poor.
He has sent me to bind up the brokenhearted,
to proclaim freedom for the captives
and release from darkness for the prisoners,
to proclaim the year of the Lord's favor
and the day of vengeance of our God,
to comfort all who mourn,
and provide for those who grieve in Zion—
to bestow on them a crown of beauty
instead of ashes,
the oil of joy
instead of mourning,
and a garment of praise
instead of a spirit of despair.
- Isaiah 61:1-3a

Similar Posts: