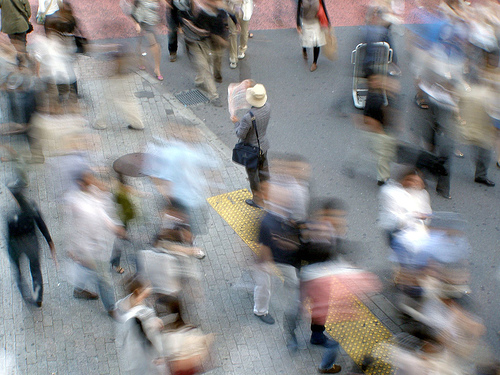 "Everyone matters."
It's possible that my parents never actually put those two words together in an emphatic way during my childhood and adolescence, but they didn't have to. Everything they said and did pointed to a deeply engrained sense of respect and care for others—especially for anyone who was at some sort of a disadvantage.
I knew, for instance, that they sent my brother and me to public schools because those are the schools for everyone, and it was their responsibility, in part, to invest time and effort into making those schools great for everyone. I also knew that rather than voting for the political party or candidate who would improve their own lives the most, my parents voted for the people they felt would best look out for the underdog. And I knew that the random, ragtag people who often sat around our Christmas or Easter dinner table were there not because they were especially fascinating guests, but because they were especially in need of tangible acts of love.
Without ever being lectured, this is what I learned: Everyone matters.
Then I was an adult, all caught up in the matters one tends to get caught up in: getting a first job, then a second job, then building a career; becoming pregnant, having babies, making up the rules of parenting as my kids have grown; moving from house to house, then state to state, signing mortgages, putting houses on the market; leaving a marriage, leaving churches, finding love again, and also God.
Along the way, something changed. It wasn't that I changed my mind about everyone mattering, or even that I forgot. I've continued to hold, rather deliberately, this foundational belief in the value of all people, and to assume it has been guiding and impacting me. I've also assumed that I've instilled the same principles in my own children, the way my parents did in me. To a great extent, I think that's all true—when you're raised that way it's hard for it to not be true.
At the same time, though, I've begun to sense that it's more an idea I carry with me than a reality I act out. I wonder if I've blurred my view of the micro in favor of the macro—if I've gradually forgotten the "one" that comes after the "every." I wonder if I've been caught up more in the telling that everyone matters than in the showing of that truth.
Because here's what happens: Over dinner, Jason and I talk with our kids about various disadvantaged and marginalized members of society—about how and why they're in the positions they're in, and what might need to happen to move them to a better place. Then (sometimes in the next breath!) I criticize the teacher whose approach to teaching and learning doesn't match my own, or I complain about the person who's tentatively driving the car in front of me, going 20 in a 30. I am critical, I am impatient. I want people to think like me, move like me, and see things the way I do. In subtle and sometimes completely mysterious, paradoxical ways, I choose who matters.
But I've been newly inspired to become more consistent and more tangible, especially during these years when our daughters are still sitting around our dinner table and in our cars, watching and listening, learning and growing. It was last week's NPR Morning Edition story about U.S. Senator Carl Levin's impending retirement that inspired me—especially this part about how he and his brother Sandy were raised:
Growing up in an intellectual, politically engaged Jewish household in Detroit, the Levins say, talk at their dinner table often turned to family heroes — Joe Louis, the African-American heavyweight boxing champion known as the Brown Bomber; Detroit Tigers first baseman Hank Greenberg, the first Jewish athlete to garner national fame; Franklin and Eleanor Roosevelt, and Harry Truman.
Carl now calls himself a Midwest progressive; Sandy's politics are almost identical — based on, he says, a concern for the underdog.
"It really goes back to how we were raised," Sandy says. "Everybody counted. Everybody should count. We were imbued with that…."
It's pretty convincing to hear an 82-year-old man point to his childhood—to this foundational belief his parents planted in their children—and then to think of the decades of public service the two brothers have given, driven by "a concern for the underdog."  What's said around the dinner table matters, and what's demonstrated in the work of our day to day lives matters even more.
———————
Photo by Woesinger 

Similar Posts: