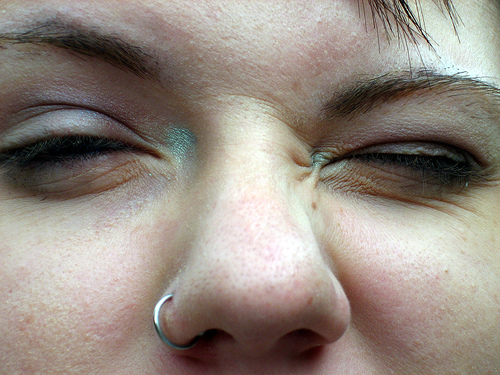 "Why on earth did you let your eighth grade daughter get her nose pierced?!?"
To be fair, no one has actually asked me that nosy question (pun intended), but I can hear it resonating in their minds, bouncing around until it leaks out in polite ways—an unintentional double-take, a purse of the lips, the rise of an eyebrow.
Maybe you're lucky enough to be someone who doesn't imagine what others are thinking but not saying. And maybe, even if you do imagine it, you don't waste time preparing a defense.
I, however, am not so lucky. I regularly have these imaginary dialogues in my head. Usually I keep them to myself, but I've decided this particular dialogue has broader merit in the realms of parenting, judging, and self-expression. So I'm going to present the hypothetical question, followed by a variety of answers I've silently composed since my daughter got her nose pierced a couple weeks ago. (That is not a photo of her, in case you're wondering.)
* * * * *
"Why on earth did you let your eighth grade daughter get her nose pierced?!?"
1. Because I want her to be able to express who she is in a way that's safe and above-ground, and I want her to know that her parents love her for who she is, not for some unspoken ideal we're holding her to.
2. Because one of the most important things a 13-year-old girl needs to know is that her body is hers—that she has some level of agency and autonomy. Almost every other part of her life right now feels monitored and controlled; this symbolizes something she was able to decide and go through with.
3. Because when it gets down to it, our most important job as parents of adolescents is to keep them alive through the pain and crap of those middle school years—to make sure they have the chance to come out on the other side, where they can eventually blossom into their best selves. Our second most important job is to support identity development—that frantic running around they do, in search of their best selves. Any time I can be supportive of identity development in a way that doesn't put my daughter's life and safety at risk, I'm in.
4. Because I spent too many formative teen years trying to be the person I thought everyone wanted me to be, rather than figuring out who I really was.
5. Because my primary argument against the nose piercing was my fear about what others would think, which is a really lame argument (and one I'm sick of heeding). The piercing allows me to practice not caring, while admiring my daughter for being more bold about who she is than I ever was before the age of 30.
6. Because it's none of your damn business. (Yes, there is that response. It wouldn't be right to leave it out.)
7. Because it has given my daughter and I a great opportunity to talk about very real issues, like image and stereotypes—to discuss the sorts of things many people assume about people with piercings and tattoos and unconventional hair, and to explore one of the most satisfying ways to be subversive: by being a paradox and turning all those stereotypes on their head.
8. Because my ex-husband and I, and both of our spouses—the four adults who know and love my daughter best—are all on the same page about this decision.
9. Because I don't adhere to the popular Evangelical Christian approach to sin and "slippery slopes." Nose piercings are not a precursor to risky behaviors, like drugs. (I do, on the other hand, believe that feeling like you're not known, understood, accepted or heard can feed a desperation that leads to desperate acts).
10. Because the piercing represents change, while also allowing room for change. My daughter doesn't know exactly who she is, or who she's going to be in three years, or five, and that's OK. The piercing can be taken out. No big deal.
Speaking of "no big deal," I think we as a culture—especially as a Christian subculture—spend far too much time worrying about all the minor details on the surface, rather than focusing on matters of the heart. As a parent, a Christian, and a person who too often jumps to conclusions about people myself, I'm going to do my best to focus on hearts. I, for one, can attest to the fact that my daughter's heart is beautiful, no matter what her nose looks like.
* * * * *
(Photo above by sittered.)

Similar Posts: