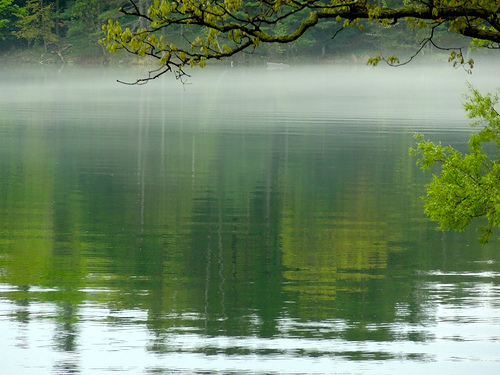 "I want to hear about a memory from that time that's good—tell me something about when you were in love."
This urging came from a writing coach, not a therapist. She recently shared her feedback on the first few chapters of my book project, which led to this tough assignment: digging back 15 and 20 years to recall some of the good moments in my life back then, when my ex-husband and I were first married.
The assignment is tough because, for starters, the passing years have made that time in my life feel distant and blurry. Then, if I am able to connect with certain moments in that stretch of time, they seem darkened by the negative feelings and experiences that saturated them. Intellectually, I know that good moments were there, too—they were just overwhelmed by the law of proportions. It's like mixing a 70/30 solution of black to white paint and having a hard time, when it's all said and done, seeing evidence of the white in all that very dark grey.
* * * * *
When I look for clues in photo albums from that time—yes, this was back when we developed film and secured glossy prints in albums—I feel deceived. I'm just not sure whether I'm being deceived by the photos or by myself.
The pictures of happy moments definitely fill me with skepticism. They're hard to trust, in part, because they capture only moments of celebration and joy. No tears, no sickness, no arguing. Clearly they aren't telling the whole story. The photos are just staged depictions of a small slice of time that was happy, or at least should have been happy, because all the right ingredients were there—a cake or a Christmas tree, a sunset at the beach, friends and family we love. And then, beyond the attempt to only capture what's pretty and happy, the photo albums are the product of a second layer of editing: Only the best versions of those best moments find a place in those pages. How can we not accuse photos of only telling part of the story?
Still, I make myself study those photos, searching for scenes of peace and warmth that might help make my memoir more honest and true. But my skepticism butts in, illuminating the disappointment and frustration that lies just outside of the frame—the loud fight we had while trying to pack the car to drive to the picturesque beach, or the tears I cried when the first cake I pulled out of the oven didn't measure up to my standards.
But if all I can remember in the course of a decade is sadness and things that went wrong, I must be deceiving myself nearly as much as the photo albums deceive. Yes, it was a very difficult time, and yes, a decade is a long time to live in pain. But there was joy, too. Why have I forgotten it? What am I afraid of?
* * * * *
A couple of years after my divorce, and several years into counseling sessions that were almost entirely focused on digging into the past, a pastor at my new church began talking to me about the power of gratitude. He was talking about gratitude in the moment, and how gathering up even the smallest crumbs throughout a day could add up to more than enough to feed and even fill you.
Right away, I knew these crumbs were something I'd been missing for years—both during my marriage and in its aftermath. I had been so distracted by my desire for the big blessings that I had been missing the many crumbs that were all around me. I began to see how simply changing my perspective on what I was looking for changed my perspective on the day I was living.
Now I'm wondering if the gifts that come with seeing the good in the moment can also work retroactively. Is it worth retracing my steps 15 years in search of the crumbs that were there? And if I find them, can they still feed me now, and change how I think about my life at that time? I'm both hopeful and apprehensive about doing the work to find out.

Similar Posts: