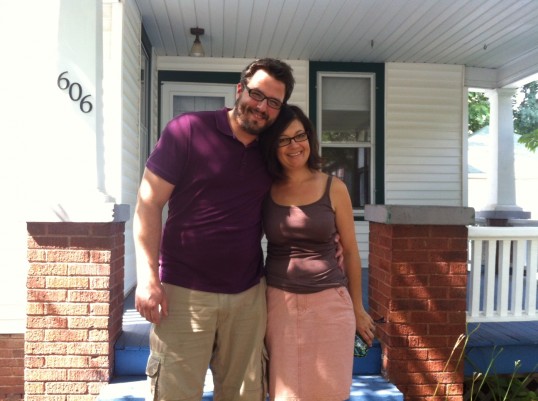 We did it! We sold our house!
If you've been following this saga (via posts like this one or this one), or if you've just been wondering what I've been up to (besides not blogging), here's the short version: For three years, my husband Jason and I have been looking, on and off, for a bigger house for our family. In March we put an offer on one and put our house on the market; in April we half moved into our new home; in May we began to really stress out about owning two homes; and today—after a stressful month of negotiations, repairs, buying a new roof, etc.—we signed the papers and handed over the keys.
Needless to say, we've very relieved to be the owners of just one house, again. And we're excited to be able to truly get settled, making our new house our home.
But then there are these other feelings, too, of melancholy and something that feels a touch like regret (or fear of regret). To be honest, I've been really annoyed with those "other feelings." For months, now, I've wanted nothing more than to sell our home. This wanting and worrying has run through our lives, impacting our whole family in various seen and unseen ways. And now I'm feeling something other than completely thrilled? That's annoying.
It's also human, though. Feelings don't seem to run black or white—they shift along a continuum of greys. In the case of moving to a new home, the greys make sense. Of course there will be some sadness in saying goodbye, considering the usual feelings of attachment people develop in the course of living somewhere for several years. My girls were 7 and 5 when the three of us moved in; now they are 15 and 13. They did much of their most significant growing up in that home. Also, Jason and I started our marriage there, and his daughter became my daughters' big sister and my third daughter. Our family has left our trace over every inch of worn oak floors and less-than-perfect grass. Everywhere you go in that house and yard, you can see evidence of something we built, planted, or changed to make the space more livable, more beautiful, more us.
I've also developed symbolism around this house, which is just as powerful as all those concrete experiences. For me, buying the house represented both a willingness to be rooted during a time in my life when everything in me wanted to flee, and a new sense of faith in God and in myself—in my abilities to pay and care for a house on my own, and to move my life forward even after divorce had left me feeling helpless and hopeless. The house is "A turning point with a street address," as I titled one of the very first blog posts I ever wrote.
So no wonder I'm grappling with conflicting emotions, right? As I've been working through them, I've started to formulate a few truths about how all of these conflicting emotions work together. All three truths are very closely related, so maybe it's just one truth, but here you go:
Feelings like joy and sadness are not mutually exclusive. In reality, they often go hand in hand, by necessity. It makes sense that I would be thrilled about something good in my life and feel a sense of loss about the changes that come with good things. Ushering big changes into our lives is dependent on our ability to face the fears that are attached to change, and to grasp onto the faith and hope we have in being able to navigate and embrace whatever's next. If big changes were easy, they wouldn't really be big (which is another way of saying they wouldn't have a big impact on your life).
Life blessings are not rated according to how long they last. A blessing in your life doesn't have to continue being a part of your life in order for it to be significant and true. And along those lines, moving on is not a sign of disrespect or ingratitude for what you've been given and how you've grown through that gift.
A new chapter in your life can feel scary and still be a very good thing. Fear is not always attached to danger, nor is it a sign you've made a mistake. Of course we love feeling a sense of peace when we've done the right thing, but often that peace (or lack thereof) has more to do with our internal state than the decision we've made (and often it comes later, rather than immediately).
Do any of these truths ring true in your life?

Similar Posts: