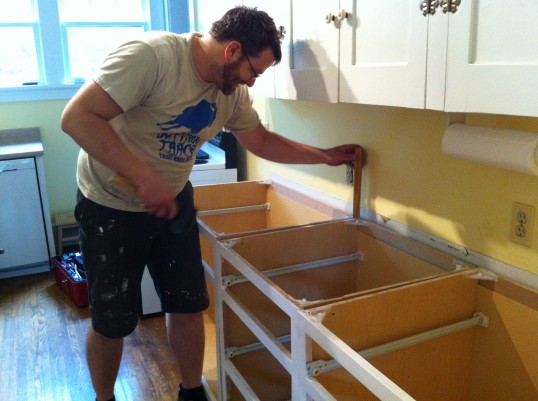 Saturday was the day. We had the cabinets in our garage, all primed and painted. The countertop had been delivered. We had a friend who was willing and able to help, and we had the whole day to tackle the project.
When we bought the house, the kitchen was the room with the most problems. It's sort of ironic, since in many ways the kitchen is the room that's most important to us. But our theory is that the old-school kitchen was the primary reason we could afford a house like this, so in a strange way we were thankful for the quirky kitchen. We're good at creative fixes, anyway—at finding inexpensive ways to make a space work better—so we knew we could make it work for us.
The kitchen's biggest problem was the eight-foot stretch of original base cabinets, proportioned for the shorter people of the early 20th century. That lovely expanse of counter space was about four inches shorter and another four inches more shallow than today's standard countertops, something Jason's six-foot three-inch frame couldn't handle (and cooking is his hobby).
We devised a plan to fix things on the cheap, for now. Off-the-shelf, unfinished base cabinets could be painted to match the original wall cabinets.  New hardware would unify everything, and a laminate counter would be just fine until we can afford to invest in something more lasting.
On Saturday morning we didn't waste any time emptying out the old cupboards and drawers. We cleared the coffee pot and toaster and bread box off the old counter, and Jason got out his screw drivers and crow bar to remove the counter. We couldn't wait to get it out of there. The cabinets were annoying because they were the wrong size, but the laminate counter was just plain UGLY. I mean, if I went to the store 20 years ago to pick out the very ugliest laminate I could find, it couldn't be much worse than this.
Jason carried it out to the garage while I inwardly celebrated all those good things—moving forward, new starts, fresh looks, progress, and the empowerment that comes with taking something you don't like and doing something about it.
Next, Jason took all the doors off the now topless cabinets, and I stacked up the old drawers as he handed them to me (these are serious drawers—they must each weigh about 10 pounds and it took two hands to open them!). Just as Jason began prying the cabinets away from the wall, it hit me: I had forgotten to take a "before" picture of the kitchen. As I was falling asleep the night before, I made a mental note not to forget. I even decided how I wanted to set the photo up, with Jason standing next to the old counter and cabinets for scale. Then I'd take the same photo of him with the new set up, so we could clearly see the difference.
I made Jason set down the crowbar and stand by the faceless, topless cabinets for a photo, but it wasn't the same. It doesn't fully show what we started with, which makes the progress harder to see.
Later in the day, after I had paused to kick myself again, I realized that I always forget to take a "before" picture when we did significant projects at our old house. I don't have a photo of the ugly concrete section of basement, which we turned into a really nice guest bedroom. I didn't take a picture of the overgrown, useless corner of the yard before we cleared it out and transformed it into a lovely patio. I didn't think to photograph the disorganized jumble of poorly used space that was our bedroom closet. We emptied it, painted it, and installed a custom closet system before I thought "Wow—I wish I could show people what this used to be like!"
Why do I always forget?
Part of it, I think, is my tendency to turn a blind eye toward the least attractive parts of my life. It's a survival technique, of sorts—I do my best to ignore the messy, ugly corners until I know I can truly tackle them. I don't want to make them real by taking a photo. Then, when I'm poised to transform that thing I've avoided acknowledging, I dive in. I can't get rid of those undesirable things and spaces fast enough. I'm driven by the vision of what can be, and by having the time and tools and ability to make it happen.
And maybe there's nothing wrong with this, really. As I said, there's a survival tactic at play. Each day, as we go through our homes, our lives, this world, we're faced with an endless string of sad, frustrating imperfections. We can't fix them all, at least not all at once, and focusing on them when you can't do anything about them can be maddening.
But at the same time, I'm thinking it's important to mark our progress. It's important to remember where we were, in order to fully see how far we've come, how we've been delivered. That remembering is key to the Jewish faith, and while a kitchen improvement is hardly the same as being delivered out of slavery, there's still something there to live by, even in our smallest steps forward. When we forget where we've come from, we forget to be thankful and content. We lose our sense of perspective—we begin to focus only on what's ahead, the next improvement, rather than celebrating the progress we've made and living in it, for a while.
Even though I didn't get the best "before" shot, I still think I want to print it out and hang it on the refrigerator, as a reminder. In some ways, maybe this photo is better, because it shows the work in progress—the reality that it takes effort it takes to make something better, contrary to what magazines and home improvement shows might suggest. There's a lot to celebrate—and remember—in that.
Similar Posts: