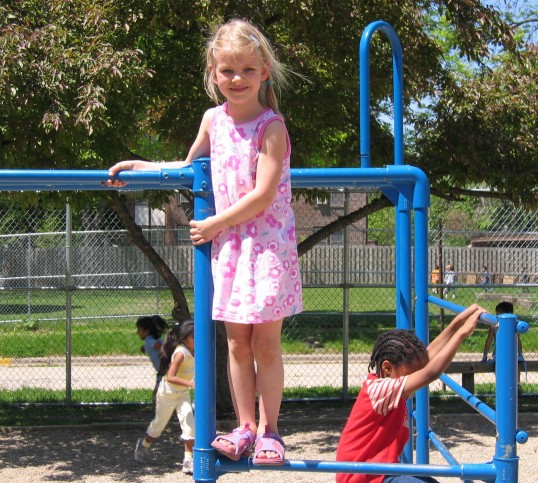 Photo by K. Tennant
My firstborn, Q, turned 15 yesterday. Yep, that little munchkin up there on the monkey bars isn't so little any more. It hardly seems possible. But each day, when I see her standing there in a room with me, telling me about some funny thing that happened at school or asking for permission to do something that takes her one step further into the world, I can't deny the truth. She is so grown up and yet so much the girl she was at six.
Parenting teens is somehow so much harder than I ever imagined. Maybe "harder" isn't the right word, because it doesn't leave me physically exhausted at the end of the day, the way parenting toddlers did. It's so much more complex. My brain and my heart hurt more at the end of the day, from mentally and emotionally trying to sort and contain all the questions and emotions, rather than from physically containing little feet and hands.
It seems I never fully know, with certainty, what's best for these three girls of ours. How much autonomy should we offer, and how many boundaries? Which lessons can be learned the hard way and which ones will be too hard, too painful? When do we hang on for dear life, and when do we let go?
I admit, it's very tempting to just draw clear lines, in black and white, and to be firm in our pronouncements: "You may not, in any circumstance cross this line; if you disobey, this will be your punishment." And, of course, there are some such lines I can draw with confidence. Don't share your location or any personal information online with strangers, for instance.
But what about smaller, less dangerous activities? Should she have a phone curfew or should she make her own choices about when it's time to stop texting her friends and go to sleep? And if we have a phone curfew, should we trust her to follow it, or should we make her hand over her phone each night at the given time, so there's no doubt who's in charge?
It's easy to get caught up in the details—in the control issues, the speculations, the fear of slippery slopes. It's easy to think, "If only we can get our teens to obey us, all the time, everything will be OK." But we know it's not possible. Not only will they slyly maneuver out of our grip now, their years under our roof are numbered. Taking a "Not in my house" stance—especially about little things—is only a ruse, a way to deceive ourselves, put off the inevitable and push them farther away.
* * * * *
"We have to think about what it is that we really want for her," Jason wisely reminds me, as I wrestle with the pros and cons of various phone curfews. "Our goal is not to raise a girl who is really obedient, or to raise one who is really sneaky and good at evading authority."
He is right. Our goal is to raise girls who know how to think things through and make good choices for themselves. Our goal is to raise girls who understand and own consequences, both good and bad. Our goal is for our three girls to thrive, to be happy, healthy, and safe—to realize all the potential they carry and to use it to make the world a better place.
Too often, all those good things we want for the people we love get buried under piles of rules and demands of obedience. Too often we get caught up in rules for rules' sake, assuming they are for good but forgetting why they were established in the first place—who they were put in place for, when, and under what circumstances. We shut out the possibility of celebrating individuals, change, and the hope of something so much better than what we currently cling to.
Yes, this is a post about parenting, but I can't help but also think about the church and all the ways Christians tend to bury love and hope and grace under piles of rules and demands of obedience.
Can we open ourselves to the possibility of letting the rules take a back seat for a change? And can we ask ourselves what it really looks like to love someone—what we really want for them? Because if we really just want them to be obedient, we can't be acting in the spirit of love and freedom Christ offers.

Similar Posts: