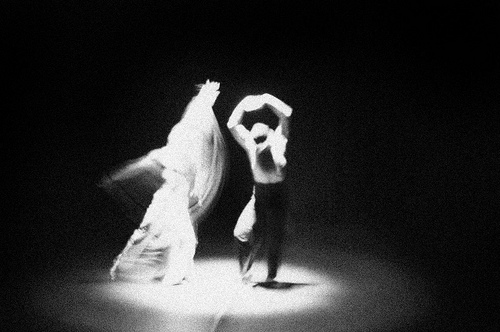 Certain moments and opportunities just seem right. No doubt about it.
If I take a closer look, often those feelings of rightness go hand-in-hand with feelings of ease and safety and certainty. The more doable something is, the more right it often feels.
Not surprisingly, the opposite is true, too. When we get that feeling that something isn't right, that thing is often accompanied by a slew of unknowns and uncertainty. The decision or situation usually involves steps that feel scary, which can make moving in that direction feel wrong. Fear is an important protector from danger, both known and unknown.
But every so often, something feels right and scary all at once. Somehow, the rightness isn't apart from the fear, or in spite of it. Instead, it seems to be more right because of the fear—because, by its very nature, it's intertwined with unknowns and risk.
And when rightness and fear become one entity like that, the feeling of right intensifies—it feels even more right.
That's how buying a house has felt to me, both when I bought our current home in 2005 and when Jason and I took a leap of faith on Wednesday, putting an offer on a bigger house that's better suited for our family of five. (If you've been wondering why I was MIA all week, now you know! I'll probably be somewhat scarce around here for the next month or two, as well…)
Taking out a massive loan is, in itself, scary. But to be honest, the financial part has also always been a bit abstract for me. I think the real fear I feel at these moments has more to do with meaning than money. What does this leap, this move, represent? What does it mean to our life? How will it shape how I see myself, my family and community, our future?
Those questions—and the answers—were huge when I was deciding to buy our current house, as a single mom. Between 2003 (when my first marriage ended) and 2005 (when I bought the house), I spent a lot of time trying to figure out how to pull UP roots—how to get out of Central Illinois and the town I never wanted to move my family to in the first place. I was wounded and on the defensive, fighting everything that would symbolically or actually keep me rooted here. Buying a house was at the top of that list.
But all that struggling and fighting against things? It was exhausting. Everything in my life felt like a struggle. Eventually, I decided to stop fighting the state of my life—where I was not just physically, but also emotionally and spiritually. That decision to unclench my fists was at a turning point, and, as I wrote in one of my first-ever blog posts, that turning point hinged on the big, scary act of buying a house. As soon as I took that leap, all kinds of good things started happening.
The house we will be closing on in April, if all goes according to plan, carries with it different fears and different dreams. It marks a different kind of turning point in our lives, too, but it's still very much a moment when what's scary and what's right seem to be doing this beautiful, frightening, yet irresistible dance before us. We're ready to join in.
Similar Posts: