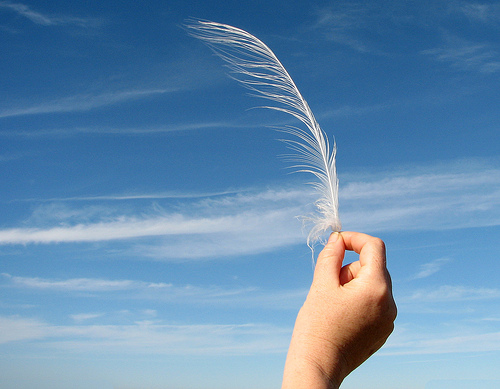 All the wishing and wanting in the world isn't going to…
We all have plenty of ways we can finish that sentence. There's always something we want to claim, something that needs to get done, something we wish we could change in our lives.
Maybe a deadline is looming, and we wish those 2,000 words were already written and handed in, and we were lounging on the sofa enjoying some down time with a good book. Or maybe we really want to lose 10 pounds, or make a career change, or completely overhaul the way we discuss difficult things with our spouse. In each case, we want the outcome so badly we can taste it. The outcome itself is clear—we can imagine in vivid detail that glorious moment when we find ourselves on the other side of the want, where the sun is shining in visible beams, the angels are singing, and we feel weightless, without the burden of the deadline or those extra 10 pounds.
The problem is that the path from here to there isn't nearly as clear.
And as we sit there, imagining that happy moment on the other side of this want, we can hear some pragmatic teacher or parent or inner voice bringing us back to reality: "All the wishing and wanting in the world isn't going to get that paper written, or take those pounds off. Get moving."
There's a lot of truth to that sentiment, of course. Isn't it often the case? The words that sound harsh, the ones we don't want to hear, carry the most truth. And although I'm not the kind of mom who would actually speak those words to my children (at least not in such a direct way), I often beat myself up about the wanting versus the doing. I see the wishing and wanting as a foolish distraction from the real work—as a sign of weakness, a lack of seriousness. I see the wanting as something meaningless that only gets in the way.
But in church on Sunday, as we read from Philippians 2, I heard something different.
I heard that we should honor our deep inner wanting. That we should sit with it, and respect it, rather than shove it out of the way so we can dive into the doing. I heard that the wanting, itself, can be part of God's work in us, part of the process. It can be an important stop along the way to the acting and doing our culture is so focused on.
"…it is God who is at work in you, enabling you both to will (or want) and to work for his good pleasure." (Philippians 2:13)
The willing and wanting time has value. It's responsible for the vision of where we're going, and for the longing that motivates and sustains us.
The wanting time is also grace. It says "it's OK" when we're not ready to dive in, and it gives us a place to rest when we do dive into the work, but unsuccessfully—when we need to crawl back out to regroup.
It occurs to me that this post might seem to contradict my recent post about needing to think less and do more, but I am sensing that "wanting" and "thinking" are two different things (and that we tend to praise thinking and look down on wanting).
And I realize honoring the wanting doesn't always help. It won't do much good with that paper that needs to get written. But I think it does apply to any good work God is doing in you—any Spirit-sustained longing that you have to be more the person God created you to be. What are you wanting in your life right now? And how might honoring the wanting, not just the doing, change things for you?

Similar Posts: