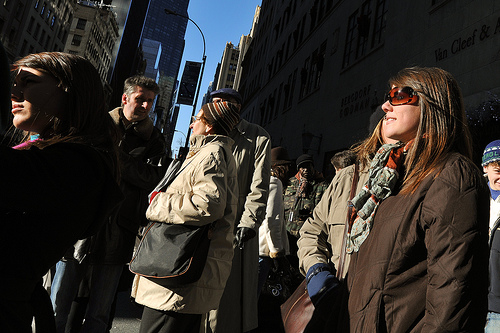 As I was packing on Tuesday to go to New York the next day, trying to decide what to bring, I kept in mind some obvious factors: the weather (cold—no, freezing), the amount of walking I'll do (lots—comfortable shoes are a must), and the type of activities planned (a client meeting, a dinner with my online writing professor and a classmate, going out with Jason and Carmen and Daisy, two close New Yorker friends).
And then there was this other thought, poking annoyingly at the back of my mind: What will make me look like a New Yorker?
This thought is ridiculous for at least two reasons: 1) I'm not a New Yorker, so why do I think I should look like one while I'm there, and 2) One of the things I've observed during my dozen or so trips to New York in as many years is that there's no such thing as a New Yorker look—pretty much anything goes. Now, after 24 hours here, walking the crowded sidewalks and finding places to insert myself on the subways, I see it's still the case.
This is a theme that runs through far too much of my life: Stop worrying that there's some person I'm supposed to be, and start uncovering the person I am—the person I was created to be. Do you struggle with this, too? (I know my amazingly wise friend Jen Luitwieler does—she's actually responsible for getting me to work on banning "supposed to" from my vocabulary.)
You'd think I would have this down by now. I was thinking and writing a lot about these issues of identity when I started the Love List project a couple of years ago, then I wrote a series of columns on the topic for RELEVANT (here's one). I've come a long way in terms of delving this lesson's depth, but it seems I need to work on the breadth, because that phrase "supposed to" keeps creeping into other areas of my life and taking me by surprise.
As with the New York suitcase packing experience, another recent run-in with "supposed to" reminded me that this issue is really rooted in perception and expectation—in our understanding about the lenses others see us through and the hopes they have for us—rather than in reality.
The "situation" was a church congregational meeting, where some of our newer attendees were getting their first taste of us "behind the scenes." If I had to pick just five words to describe my church community, two of the words would be "messy" and "real." It's one of the most eclectic, diverse group of people I've ever been around, and people keep it real. These are two of the things that drew me to the church in the first place—I love it for its realness, which often means that I'm cringing even as my heart opens and swells with affection.
But the minute I start trying to see this collection of God's people through someone else's eyes—the minute I begin speculating about their expectations and what they're thinking—it becomes all about the cringe factor, not the love factor. Not only am I not dealing with reality, I'm not focused on loving and growing that reality. Does that make sense? Because often I can't know what someone else is hoping and expecting, and often, even when I can ask directly and find out, I discover how off base I was.
That's exactly what happened in the case of a new friend at that church meeting. I couldn't help myself—the cringing was so overpowering that I sent an email of the I-hope-you're-not-freaked-out variety. Her response? "The congregational meeting was actually incredibly refreshing for us. We just came out of an environment where that kind of exchange was not welcome, so even though it was awkward we appreciated the exchange and the investment of the people in the church." What? They appreciated us for being who we are? Yep. Apparently that happens.
So what have I learned? That trying to be who we think we're supposed to be is not only a waste of time, it's counter-productive. I've also learned that this important lesson permeates many areas of my life. I am a Midwesterner in New York. I am a part of a really beautiful, wonderfully odd group of Christians. We are all exactly who we are supposed to be, so it's time to stop worrying and time to start uncovering all that goodness.

Similar Posts: