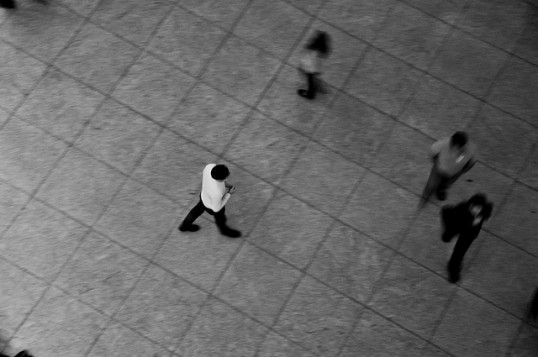 I have a feeling God has either been having a generous chuckle or a mighty cringe as he looks down on little me, going about my week.
It started out as a good week. In fact, I went into it better equipped than usual—Scot McKnight had just spoken at our church over the weekend, so I was running on a fully-inspired charge.
Both of his talks focused on the topic of his blog and best-selling book, The Jesus Creed—how all of the commandments in the entire Bible hang on the two greatest ones: loving God with all your heart and soul and mind and strength, and loving your neighbor as yourself. While that was certainly inspiring—especially what he said about the significance of reciting the Jesus Creed again and again—it was Scot's definition of "love" that really rocked me, in the best of all possible ways.
He was going to save his definition of love until his teaching Sunday morning, but a couple of us sort of cornered him during the question time Saturday night. We had to know—we didn't want to wait! Because sure, it's great to focus on loving our neighbor as ourselves, but it's hard to make that real if we don't know what real love looks like. And besides, this fit right in with everything I had just been thinking about in terms of teaching our kids empathy. I needed something I could hang on to.
So Scot obliged, talking for a bit about the dictionary definition of love, and about how popular culture has co-opted the idea of love so much so, that most people—certainly most adolescents and teens—think first of the pheromone-rushing sense of desire when they think of love. But the Bible, again and again, demonstrates what God means by love, Scot said: A rugged commitment to being WITH and FOR people, unto divine ends—for the purpose of becoming all that God created us to be. That's the definition of love we need to strive for—the same type of love God shows us.
The definition was so simple, but so astounding. It rang true deep in my bones, like something I had always known, yet it felt brand new, like some amazing new invention being shown to the world for the first time. I was stunned. It was not just truth, it was practical truth—something I could imagine, something I had experienced, something I could explain to my kids and put into practice in my life. I haven't always known what love is, but I know exactly what it means to be with someone; I know something of what it means to be for someone. Presence and advocacy are not foreign concepts.
So I went forth, out into my week, to love. And first thing Monday morning, I encountered a rude, self-absorbed graduate student at the cafe. Later, I swore under my breath at the driver of a Suburban who was drifting over into my lane—yep, he had his phone out, and he looked exactly like I expected the driver of a Suburban to look. Then I became incredibly annoyed over a new comment here on my blog—one that began with the sentence "What about what the Bible says about fornication?" I immediately turned to Twitter for consolation, tweeting, "something shuts down in my brain when a comment at my blog starts with 'What about what the Bible says about…' if only it was that easy."
It seemed like there was a hard-to-love person at every turn. I don't know if there were more aggravating people than usual (was this a test?), or if I was just noticing them more, because I had entered into the week so determined to love and they were so determined to make it difficult.
As I thought more about what God must be thinking, though, I decided that God does not cringe or laugh at us. I think he does this thing that no human can do—a type of cringing-chuckling-head-shaking-grace-filled-hug. It's sort of like how other languages have perfect words for things that leave English-speakers speechless. For God, it's all part of that being-with-us-and-for-us love. It involves a sense of humor, and a lot of patience. Maybe we can't quite get it right, like God does, but there's so much we can learn in his true love embrace.

Similar Posts: