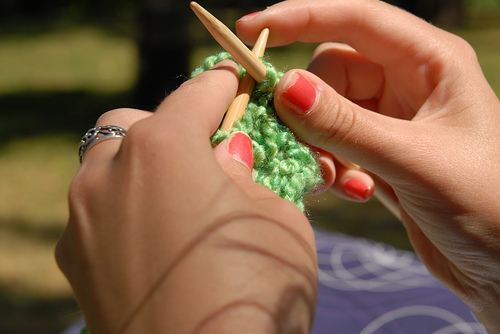 It began the way these things do: with a flicker of inspiration, a sweet sense of promise, and a surge of motivation.
Knitting season had arrived, and I knew exactly what I was going to make. I found the perfect pattern. I bought the yarn and tested the gauge. My needles were packed, and a weekend at a friend's cottage in Wisconsin was right around the corner. I could already see the chocolate brown cardigan on me. In my mind, I tried it on with my orange cords, then with my lime green skirt. I imagined the sweater feeling like a hug as I walked the dog on a perfect fall day. As my mind wandered, I may or may not have even practiced a few different ways of responding to people who might ask about the sweater (after all, the right balance of humility and healthy pride is tricky).
In other words, I got a little bit ahead of myself.
Two days later, not long after successfully knitting the collar and making the first buttonhole, I was cursing it all—the dark yarn, the dim cottage lights, the 3G network that wouldn't let me look up videos of complicated knitting instructions on my phone, and the funny feeling I had that what I thought seemed right, in a maybe-sorta way, wasn't right at all.
But I brushed those thoughts aside, surging ahead in the determined way that is more about lunacy than bravery. I told myself that no one would notice that huge knotted tangle of attempted increase-stitches sitting right on my shoulder when the sweater was done. I told myself it is good to not be a perfectionist. I told myself that mistakes add charm—if I wanted a perfect sweater, I'd buy one at J. Crew, made by a machine.
And I kept knitting and knitting away, feeling somewhat thankful now for the dim lighting and the distractions of Jason and his buddy playing some wild card game that involved lots of slapping, agony and verbal strutting. Sometimes I am hopeful this way—I think messes will magically right themselves, that the faster I surge ahead, into the future, the faster I'll leave the mistakes in the past.
The problem is, knitting is a lot like life. Yes, there are little flaws that can be charming, or maybe they can even be fixed down the road with an extra stitch or two, and some skilled blocking. But sometimes there are big problems, of a different species. These are the type of messes that love to reproduce, multiplying and growing before your eyes. They don't go away. No matter how hard you try, you can't avoid that thing you were doing wrong, and the way it keeps popping up in your life so you have to keep doing it again and again, still wrong each time. You can't later enjoy the satisfaction and warmth of a finished product if it reminds you, each time you pull it out, of the mess you never fixed.
I wasn't exactly thinking all of this when I finally admitted yesterday what I knew in my heart: I had to tear out all the stitches I had made on Saturday, all the way back to that initial three centimeters of properly-knitted ribbed collar with its single buttonhole. What I was thinking is that if I didn't go back and make it right, I would continue to stumble and fight this project every step of the way. I was putting in place my own booby-traps, that would continue to trip me up. Ridiculous! Especially when I considered that the whole point of this activity was to bring peace and satisfaction, and eventually a sense of accomplishment and some warmth. Why would I sabotage myself in such a way?
And yet we do—in small and big ways all the time. We give in to bad habits. We surrender to mediocrity. We silently exchange our dreams and visions for sorry substitutes that don't satisfy or bring joy, and then we carry the weight of those poor decisions forward.
I hope you will hear what I'm trying to say. This isn't a post about being perfect. It isn't a post about holding out for only the biggest and best dreams, refusing to take joy in the small, simpler things. It isn't a post about beating ourselves up, either, or getting bogged down in regret.
It's a post about this: knowing what is possible, and what we are capable of—knowing the way things work and feel when everything is right within us. It's about understanding that being the best version of yourself often means moving backwards, and doing the hard work of righting the wrongs before we move forward again. It's about looking for the long view, and not rushing things that matter. And sometimes it's about turning down smaller gains that tempt us in the moment, and choosing, instead, to focus our hope on that "something better" we've gotten glimpses of along the way.

Similar Posts: