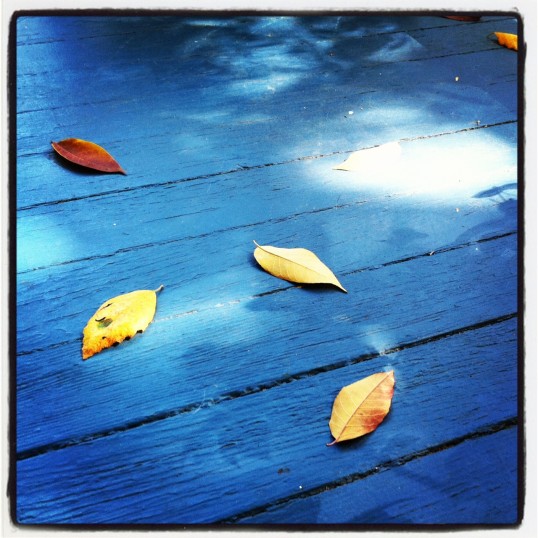 The golden leaves are suddenly making themselves at home on our porch, as if an open invitation was issued with the recent flipping of our kitchen calendar to October.
I'm out with a broom, on a day that started wet and has reluctantly agreed to share some splashes of late afternoon sun. As I sweep, I admire what I'm working to clear away—the brilliant color, artfully scattered by the wind and adhered securely to the floor with the damp of this week's rain. It's nature's decoupage.
There are still a few leaves on the porch when I decide my job is done. Maybe I'm acknowledging the futility of perfectionism in the face of nature, of things I can't control. The wind will blow again. New leaves will join the few I've left on the porch. I will return to sweeping in a few days. It's a cycle I will choose to be a part of, rather than fight.
Or maybe I stop before the job is "finished" because not being a perfectionist is a way of acknowledging the beauty in the mess—of recognizing that the beauty isn't found in a perfectly-swept surface, but in the few golden shapes of fall still clinging to the bright blue of the floor. The beauty is in the fact that I can see them as beauty, rather than seeing them as obstacles standing between me and some false sense of "completion."
Back inside the house, separated from the fall air and the methodical arcs of my broom, I laugh at myself for trying to figure out what those few remaining leaves might mean—what they say about me, about life. If anything, they're probably just evidence of something banal, like my "good enough" mentality when it comes to housecleaning. Why do I bother trying to find meaning in everything?
* * *
That was yesterday, though. Today I have a different thought. Maybe appreciating meaning in the everyday is a fine thing—a good thing, even. Maybe the exercise isn't wrong, I'm just getting the order of operations wrong. My tendency is to hunt for the meaning that caused a certain action or response. I want to think things happen for a reason, that I always act with intention, that the meaning is buried there, deep at the roots, and if I dig and grope I'll unearth it.
But what would be wrong about ascribing meaning after the fact? Is that "cheating?" Does it make the meaning any less meaningful?
It occurs to me that for much of my life I've been responding to the wrong job description, assuming my role is detective rather than poet. I've been using my magnifying glass to look at details as clues, rather than as found objects that could carry many layers of meaning and be transformed into art.
The more I think about it, the more I suspect that much of what happens in our lives from day to day just happens. Circumstances line up, or sometimes collide. Often we're distracted and respond in the moment, intuitively, without pause and thought. Those little things—sweeping away leaves, waiting for the kettle to boil, hearing a sound through the open window that reminds you of some moment in your past—just are.
If we let those everyday moments drift by, they are nothing more than what they seem at face value. If we hunt for clues, hoping to uncover inherent meaning, we might come up frustrated, and empty-handed. But if we see ourselves as poets—as part of the creative process, in a world where there can be more than one answer—we will see the mundane transformed into meaning.

Similar Posts: