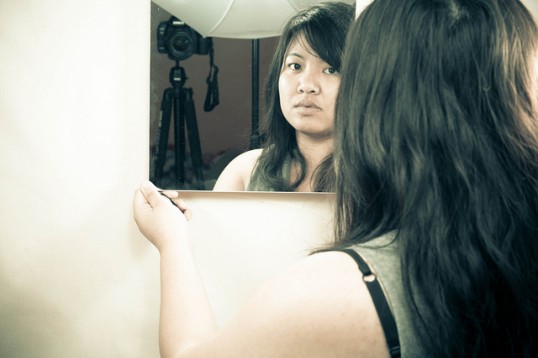 "I'm just not feeling like myself."
It's something we've probably all felt at one time or another, but it's a funny thing when you think about it—this state of simultaneously being but not being ourselves. Of course I'm always me, I'm just not always the me I perceive myself to be, the me I'm comfortable with and know what to expect from. I'm not always the me I like best.
Having our expectations turned upside-down gets tiring enough in our external lives. There are those days that start out so sunny and full of promise, but suddenly seem intent on smacking you down at every turn. There's the restaurant that sounded SO good, but its flavors don't quite live up to the expectations of your taste buds. There's that person you met who seemed like she could be a new friend, but then she blew you off when you emailed about getting together. Right when we think we have a good read on something or someone, we're likely to be taken aback by some unexpected twist. When we can't even get a good read on ourselves, it's extra exasperating!
But that's right where I've been these past few days. The real me—the one who is outgoing and social, engaging and always up for whatever—has shifted into a moody, minor key. Rather than the me who has to force myself to not look at Twitter so I can get some work done, I've been invaded by some person who has to force herself to get on Twitter and try to be social. Rather than the usual me who knows exactly what sounds good—where I want to go out to eat, how I want to spend the evening, which plans I want to put on the calendar—I've been inhabited by some uncertain, indecisive creature. Rather than being all about plans and forward momentum, I've felt stuck, as if my legs and heart are full of lead. Heck—lately, when I open my mouth, I haven't even been communicating what I want to communicate, and that's my profession! Who is this person?!?
It definitely isn't the first time I've felt like this. Part of the reason I'm extra sensitive to this sense of losing myself, is that I think of the feeling as a warning signal that I'm hitting a depressive dip. And while it's good to be aware of what might be going on, it can also trigger a vicious cycle—one I'm inclined to throw my hands up and give into, because to fight it feels like engaging in a losing battle.
I think, however, there could be an alternate route—a "third way," somewhere between fighting and giving in. That third way might involve reframing how I see myself, and what it means to be myself. Because not feeling like yourself isn't always a bad thing. Sometimes it's about stretching and growing. We want to have that flexibility to function in a new way, those moments to surprise ourselves. Being a completely fixed, known quantity might be comfortable, but it isn't inspiring.
That third way might also mean going with the flow for a while, not in a helpless way, but always alert, ready to jump off the inner tube and start swimming with purpose in a new direction. It might mean saying, "This isn't my favorite version of me, but it's me, nonetheless, and I'm going to respect and love on myself in this place I'm in right now." There's a good chance I'll even learn something about myself and others along the way.
Speaking of learning, I learn so much from all of you who read and comment here. I'd love your thoughts, as always. Do you ever not feel like yourself? How does that feeling manifest itself, how do you respond, and what have you learned?

Similar Posts: