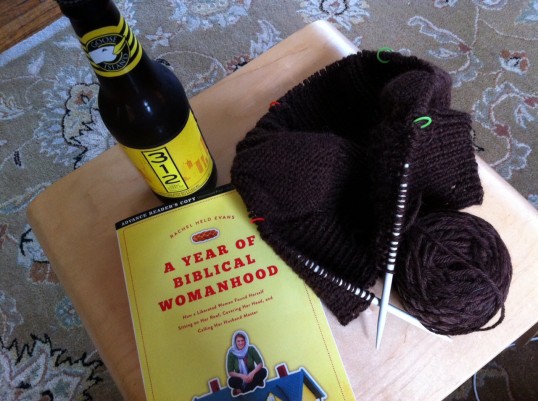 Yep, that's how I hang with Rachel. :)
This post is part of a surprise synchroblog of letters to Rachel Held Evans in celebration and support of her new book, A Year of Biblical Womanhood. Rachel has inspired and encouraged so many bloggers in so many ways—it's a pleasure to help shine some light on all she is and all she does. A full list of participating posts can be found here.
* * * * *
Dear Rachel,
When we first met, in April of 2010, I was immediately drawn to you—and not because you were a brilliant published author! I can say that with certainty, because your first book had not yet released. I think I was drawn to you because you seemed so at home in this in-between place I like to call Halfway to Normal. You had one foot in the now and another in the not-yet, and although that can be an incredibly awkward stance—especially at times when the two seem to be drifting apart, like a boat and a dock—you held your precarious position with both boldness and grace.
Only two years and a handful of months have passed since we talked over drinks that evening in Grand Rapids, but I bet it feels like a lifetime, in many respects, to you. In the midst of Evolving in Monkey Town's success and the amazing growth of your blog, you dove into the research and writing of A Year of Biblical Womanhood, ramping up your speaking schedule and even making appearances on The Today Show and The View (which I just learned had to be rescheduled due to hurricane Sandy). You've been named one of Christianity Today's 50 Women to Watch, which means you're also considered dangerous in the eyes of some prominent conservative Evangelicals. As I've watched your story unfold, I've become angry and vocal, sad and prayerful, and always so grateful for how you continue to be YOU, through it all.
That groundedness in who you are, even as you continue to question and explore, has translated to some very important truths:
You've proven something not many can: that strength and humility go hand in hand. You've demonstrated that yes, even women can be incredibly strong and still embrace their womanhood. Grace under pressure. Humility in the spotlight. A soft heart encased in tough skin. Generous measures of love in the face of hatred, and patient reason in response to hasty conclusions.
You've also shown, both in your writing and your character, that intelligence need not cheapen itself to also be funny and real—that a sharp mind goes well with sparkling eyes and a welcoming smile. You are evidence that being true to yourself and true to your God are one in the same thing—that no part of who he created you to be need be set aside or wasted as you pursue your calling as a writer and a thinker.
And finally, you continue to remind me how critical it is to ask the questions and to follow the story, wherever it leads. This life we lead as women, as writers, as followers of Jesus and part of a broader community, is made meaningful not through popularity or publishing or saying what we think people want to hear, but only through our seeking for truth. It's a road that can be difficult to stay on—there are so many tempting distractions along the way—but knowing you are on the road with us makes such a difference.
With love and prayers as your new book goes out into the world,
Kristin

Similar Posts: