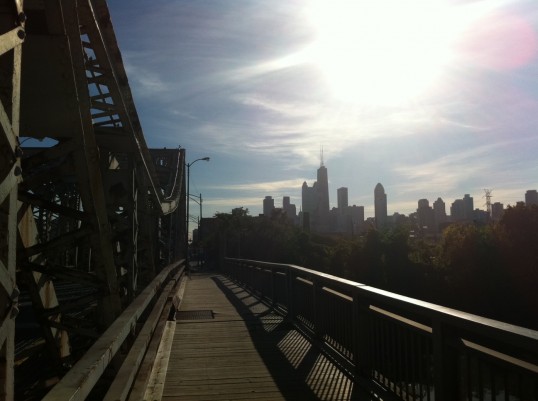 Photo by K. Tennant
I've felt a bit stuck lately, when it comes to my broader creative purpose. Every few days it feels like I can catch a glimpse of it, like something far off and almost indicipherable on the other side of a canyon. I squint for a while, trying to make out its shape, then I look around for a way to get closer, so I can catch a better look. Then I sigh and turn back to whatever happens to be distracting me in the moment, hoping that shape on the other side of the canyon will either go away or somehow land magically in my lap.
It's no coincidence (although I didn't see the connection at the time) that my faith has also been feeling truncated. It isn't a case of tension between me and God—there's plenty of warmth there. I just sort of feel a distance, like I've been off traveling and we know we love each other but we can't really connect—we can only send a quick text every so often.
These "stuck times" can be the best times to spend a few days at a conference, out of your routine, so the timing of STORY in Chicago last week was ideal. Rather than approach the conference with a clear objective and mission (I couldn't, of course, because I was feeling stuck), I arrived completely open, unsure of what I expected or needed but hoping to find it.
The Moleskine journal I brought home at the end of the two-day event—almost completely filled up with notes—suggests I definitely found plenty of something. But what? Sorting through it all and figuring out how to ingest it is another matter. Rather than feel overwhelmed and stuck over that task for days, I decided to find one quote that really resonated with me from each of the main speakers I heard, and run with them. I'll just throw them out there together and see what happens. (Btw, I've decided to not use quotation marks because some of these statements just represent the gist of what the speaker said, and in other cases they're close to direct quotes but I'm not completely confident I was able to get every word.)
- From Erwin McManus: Is there really nothing new under the sun? If you're living outside of God, I think that's true. When you live your life inside of God, you're part of the creative order. Life outside of that creative order is empty and mundane, like it was at that time for King Solomon.
- From Isaac Rentz: We romanticize creativity and art. We need to accept that creating is hard. It's supposed to be full of obstacles. It's easy to get comfortable in our niches, but often we find our voice only when we take creative risks.
- From Anne Lamott: Think about one day's work—not where it's going, but just what you need to do today. The big picture can overwhelm you and shut you down.
- From Kyle Idleman: Do I have an audience of one or an audience of many? Who am I doing this for? You do what God gifted you to do for God, not for an audience of many.
- From Phil Vischer: Wondering where I'll be in 10 or 20 years is none of my business. Asking God what he has for me today is my only business—it's all that matters. When you let go of your plans, you find God.
Yes. These thoughts resonated because they both point to canyon and they provide bridges that will help me begin to cross it.
The canyon: My faith and my creativity are intrinsically linked, but too often I compartmentalize them. The bridge: Being in communion with my creator.
The canyon: I keep forgetting that being a good writer means writing is harder, not easier. It's dangerous, not safe. The bridge: Being willing to write the hard stuff—and keep writing it, again and again, until you get it right.
The canyon: When it comes to my book project, the big, final picture is paralyzing me—it's getting in the way of whatever it is that I need to write today. The bridge: Asking God to give me this day, my daily bread, and then offer whatever I am able to create on this day to him.
The canyon: I'm too distracted and shaped by the voices and reactions of others, whether they are criticizing or complimenting my work. The bridge: Reminding myself daily to write, in honesty and truth, for the one who created me with these gifts.
The canyon: All the expectations and plans I have for myself, as a writer, could be keeping me from God and what he really wants me to do. The bridge: Opening my hands, letting go of the things I cling to so tightly, and seeing what God has for me to do, each day.
It won't be easy, but as Rachel Held Evans pointed out during her STORY talk about her new book (A Year of Biblical Womanhood), we are women of valor—strong, brave, and loved and gifted by God. Eshet chayil!

Similar Posts: