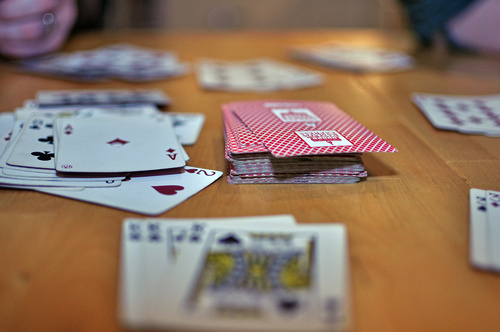 There was no doubt what I would write about today. On Thursday, I will be meeting dozens of my closest Twitter and blogging friends—of course my online community is on my mind. (So much so that I can hardly tone down my excitement enough to write a logical post.)
But even though I had a subject, I wasn't sure what angle I would take with this post. Online friendships are tricky to pin down. On one hand, they're often viewed with suspicion—can you really trust someone you can't look in the eye, who hasn't physically been there for you? Others, who have never poured their guts out and opened their homes to strangers they've met online, like I have, simply discount that these are real friendships, at all.
My mind takes these suspicions into consideration, but my heart knows they're bunk. Many days, my online community feels like it's made up of the only true friends I have. Several of the people I'm going to meet while I'm in Chicago this week are people I've known for years, but just haven't met in person. By reading one another's blogs and daily tweets, I feel like I know many of them better than I know friends who live in my city, and I'm certain these online friends know me better than many of my "real life" friends do.
These deep, gut-level feelings about people I've gotten to know online have been confirmed in real life, too. Friends like Ray Hollenbach, Leigh Kramer, and Shawn Smucker have passed through my town and pulled chairs up to my family's dinner table. Twice I've made plans to room at a conference and a workshop with friends I had not yet met in person—Suzannah Paul and Katie Gibson. I've sat around a table with Micha Boyett, Addie Zierman, Ed Cyzewski, Stephanie Smith, and Heather Goodman, a group of bloggers who see my heart, and seem to have a special ability to really hear my dreams and frustrations. A few springs ago, I sat on a lawn and talked about blogging with Rachel Held Evans, just weeks before her first book was released, and earlier this month I dove into a conversation about hurt and redemption with Tammy Perlmutter, over coffee. While it might seem to some that I went out on a lot of limbs, these interactions felt to me like the most natural and safe things to do.
Online communities aren't all hugs and smiles, though. As I started thinking through this post, I wrote a fill-in-the-blank at the top of a piece of paper:
Online communities are ______________.
The quick list of words and phrases I wrote down made me laugh, mostly because for every positive there was a corresponding negative. Here's what I came up with:
- Online communities are encouraging—when I need a good dose of "You can do it," by people who believe in me, my online friends are the best (after my husband and my mom, that is). But they can be discouraging, too. It isn't an intentional discouragement, but there are days when Twitter feels like a running list of everyone else's amazing accomplishments. It seems like everyone is blogging more, publishing more, getting agent deals, and being impossibly witty, all while making gorgeous pies and running great distances and being a wonderful parent. (In similar ways, online communities can be inspiring and overwhelming.)
- Online communities are both engaging and lonely—I always know there will be someone to interact with or run an idea by on Twitter, but sometimes it feels like you're standing in the midst of a lively party, with conversations happening all around you and there's no natural way to ease into any of them. (Or you feel like everyone's talking about the party you missed entirely.) Similarly, it's a setting that can be both friendly and intimidating.
- Online communities are transparent. There's something about the way we hide behind our computers that allows us to be more bold, more brave—to share things and speak up in ways we wouldn't in person. But at the same time, our computers can be masks rather than shields. Hiding behind them can provide a way to be more false and guarded, to expose only the parts of us that feel polished and perfected. (I also had "deep and surface-skimming" on my list, which goes hand-in-hand with this theme.)
- And online communities are diverse and insulated. I have to admit, I love both sides of that equation. I interact with people on Twitter that are different from anyone I interact with in real life. Part of that difference comes from the diverse geography. Social media erases the miles between me and people who live in Kenya, Puerto Rico and Germany, as well as friends who live in the rural South or New York City. I'm also able to have conversations with people coming from different perspectives of all kinds, whether in terms of religion and politics or health and parenting. But Twitter and blogs also encourage the grouping of people who are all very similar. That's part of why I love it so much. Where else can I find a bunch of Christian-liberal-beer-drinking-writers who really get where I'm coming from, and make me want to shout "Preach!" when I read their thoughts? Sure, there's plenty of preaching-to-the-choir, but I think we need a good dose of that, in order to feel less alone, less like a paradoxical freak, and more like we can embrace who we really are and how we really feel, and tell our stories boldly and honestly.
I know I need that affirming refreshment desperately, and it's exactly why I can't wait to meet these encouraging, inspiring, transparent, engaging, deep friends at the STORY conference this week. It will be a celebration of all that's truly good in our online communities.
How would you fill in the blank? Online communities are ___________.

Similar Posts: