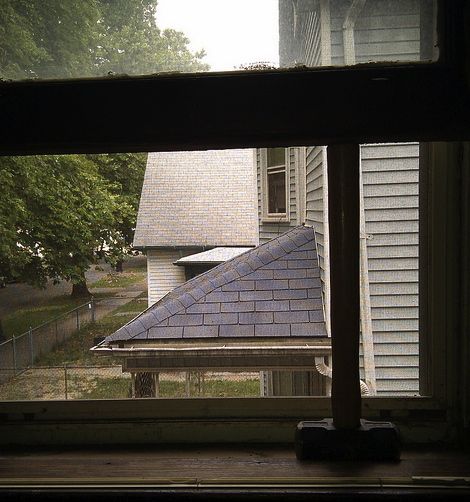 It is blessedly crisp and cool here—finally, after months of the sort of muggy, heavy days that make you hesitate to take a deep breath, for fear you'll drown.
These past few days, all the windows in our house have been open. I even pulled the quilt out of the closet and spread it in its rightful place on the bed, making our room look fully dressed again after summer's skimpy, sheets-only look.
While there's no sleeping condition I love more than the open-windows-sort, there are drawbacks. At night, as I'm falling asleep, I can hear the antics of college kids up the block, sitting outside so they can smoke and laugh late into the night. If I wake up in the middle of the night, when I'd like nature's white noise to lull me back to sleep, instead I hear the mechanical cycling of my neighbor's air conditioner. And in the early hours of this morning, an hour before my alarm was set to wake me, I was startled awake instead by the garbage man grunting in the driveway below our window as he heaved our trash can and carried it to the roaring truck.
I know these are only minor intrusions, yet it's still tempting to be annoyed, in the ridiculous manner of a child who wants to have her cake and eat it, too. Finally, the temperatures have cooled and I can sleep comfortably—the conditions are so close to just right, and yet they are marred.
But then it hits me: Having my windows open is a lot like having my eyes, ears, and heart open to the world. Having access to the fresh air and inspiration I crave, after all, requires a willingness to also be open to the inconveniences and frustrations happening beyond my own little bubble.
On Friday I wrote a column for RELEVANT about hospitality, concluding that true hospitality involves accepting someone as they are and offering, in love, whatever you have to give. It occurs to me that I forgot the very first step: Being hospitable starts with being open to the world around me—not shutting myself off in an attempt to control my environment, while denying access to the lives and needs of others.
Tonight when I go to bed, I will try to revel not just in the comfort of another night of perfect sleeping weather, but also in the way my open windows allow me to extend my awareness beyond myself. I will try to transform what could be only "noise" into opportunities for awareness and compassion: for the college students struggling to find themselves and find their way; for my neighbor, a single mom who can't open her windows on beautiful nights because her daughter's allergies and asthma are too severe; and for the garbage man working a difficult and smelly job, whose grunts of exertion I've heard, but whose face I've never seen.
I will say a prayer for each of them—and another for myself, that I will live with my windows, ears and eyes open, not shutting myself off from all that invigorates and all that troubles this world.

Similar Posts: