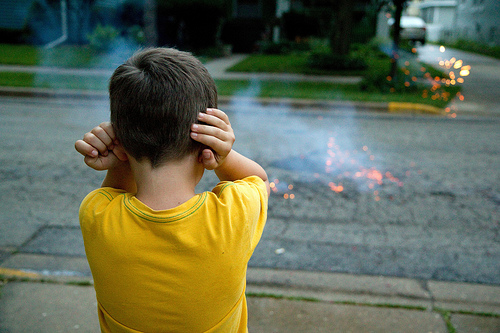 The culture wars have seen so much promotion and analysis and plain-old bloody engagement lately that yet another blog post on the subject is bound to make you glaze over.
Let's face it: We're exhausted, angry, sad, and between a rock and a hard place when it comes to these ideological battles, whether it's the tax plans of presidential candidates or our very public decisions to eat or not to eat at Chick-Fil-A. There seems to be no way to gain an advantage point, yet we keep turning up the volume on the same weary battle cries.
Even those of us who see the hopelessness of that tactic are stuck. To speak up seems to only add to the noise and pointless chaos; to remain silent feels like letting the noise win, and allowing the most marginalized and in-need among us to continue feeling alone, without hope or justice.
A collective call to be "quick to listen"
Yesterday, several blogging friends on Twitter flocked together to commiserate and seek comfort. "It's getting bloody. Makes me nauseous," @andilit wrote. "Me too. I'm really sad & sick over it! Its ok to disagree. We need dialogue not hate," added @KTLaBlanc. "Does it not make anyone wonder where our ability to reason with respect gone?" asked @jenluit. "I don't mind disagreeing, but lets both at least try to understand each other," @CarisAdel said.
Finally, @andilit asked "anyone want to do a day when we all post on this idea? Asking for civility in convo?" Yes, we did. Today is the day, and our little link-up is titled "Quick to Listen" (#quicktolisten on Twitter).
I love the title @jenluit came up with (a clever spin on James 1:19), but I can't participate in a project with such a name without full disclosure: Being quick to listen is a huge challenge for me. What I tend to be quick at is sharing my opinion and getting angry. And I know I'm not alone. It's no longer just a result of human nature, either. In this day and age, there's no shortage of platforms that give us opportunities to state opinions, brazen and succinct, but those same platforms don't offer equal opportunities to be better listeners.
So what does listening look like, when we aren't sitting across from and looking in the eyes of the person we disagree with? What does it look like when we can't invest long minutes in silences that are punctuated with nodding and facial expressions of compassion?
I'm not sure what listening looks like on Facebook (I hope some of my fellow bloggers have figured this out!), but I do have a sense of what real listening looks like in my real life, with real people. It's not just about being quiet for as long as possible. Listening often kicks in when we shift from sharing opinions to sharing stories. It grows out of a foundation of compassion—recognizing the other is speaking from hurts and fears, too. They may be different hurts and fears, but the feeling of them bubbling up, swallowing peace and joy, is universal.
When issues are close to home
Most of all, in my real life, listening means understanding that all of these controversial "issues" we like to shout about impact the day-to-day lives of real people. This is exactly what has turned me from anger to sadness, from outcries to inward cries, when it comes to the same sex marriage battle: It's an issue that directly impacts my family, which means it's no longer an issue. After all, issues can be aired neatly on bumper stickers. Issues can be debated loudly and then put away until the next news cycle stokes the flames. People can choose to engage or to ignore "issues"—that's the privilege of those whose lives aren't tangled in them.
But for my stepdaughter, and therefore for our whole family, thousands of Christians flocking to Chick-Fil-A is not just something to roll eyes over, or something to get vicious about on Facebook and then forget on your way to the mall. It's something that says to her "The faith all four of your parents are raising you in is in ugly combat against the very heart of the mother you love." It says "The things our faith has taught you about love don't play out in the church," and "The love, compassion, and grace you hunger for are more likely to be found in the world than among Christians."
This is why we need to listen: When we forget how, real people are forgotten and bruised. Love is lost when the act of listening is lost.
Some days it's all I can do to resist throwing myself headlong into this battle. But I realize my involvement would not win any hearts and minds—it would only signal my complicity in this culture war. It would say to all three of my daughters that I accept both the premise and the rules of this brutal game: That whatever the issue, there are always two sides; choose one and fight loudly, to the death. And accepting those rules makes it nearly impossible to live out my less-than-tidy stance as a Christian who supports same sex marriage. I am hurt and bruised on either side. Only listening and love, which inherently reject the premise of "sides," are able to hold, express, and offer hope to what I'm feeling in my heart.
As @brandonandress said yesterday on Twitter, "I no longer choose to participate in the culture war… and that feels like a huge win." Yes—if we turn that energy toward listening and love, it is a win. Will you join us?
————–
Be sure to check out other #quicktolisten posts, by Andi Cumbo, Jennifer Luitwieler, Caris Adel, and Kirsten LeBlanc, and let us know if you write a post of your own!


Similar Posts: