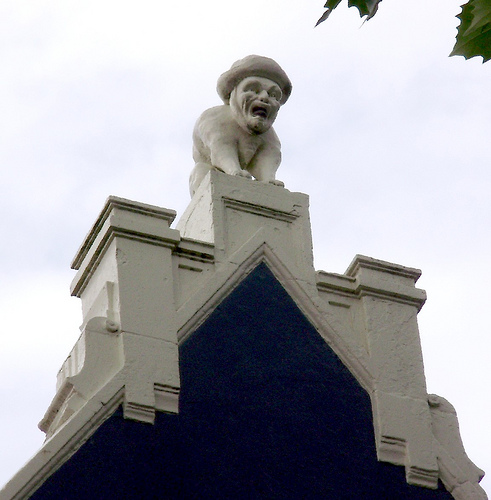 My husband, kids and I live in a tight-knit neighborhood in a small city. For me, this means I have to build extra time into every errand I run—to the grocery store, library, post office, you name it—because I am certain to run into someone I know. It also means that if I get to the cafe and realize I've left my wallet at home, I am sure to see someone I know well enough to beg a five-dollar loan from (yes, this has happened before…maybe more than once).
For my daughters, living where we do means they have a whole village looking out for them.
Not surprisingly, I'm a bigger fan of this "it takes a village" approach to parenting than my 14-year-old, autonomy-seeking daughter is. One friend, when I ran into her at the farmers' market, told me she had seen Q biking the other day, "wearing her helmet like a good kid." Another day, I got a text from a friend who had seen Q at the park. I knew Q and her friend were going to the park, but I didn't get the full picture until I later mentioned the text; at that point, Q said, "Oh, yeah—I said hi! And by the way, there were some boys from our class at the park, too." Mmmhmm. Good to know.
Parenting freedom-hungry teens is harder than I ever imagined. I'll admit—it's tempting to rely heavily on this small-town bubble as a key parenting strategy. But Jason and I have been reading Parenting Teens with Love and Logic, which is gradually convincing us to rely less on our ability to watch over our kids (even with the generous help from our entire neighborhood), and to rely more on teaching our kids the skills they need to make good choices.
The philosophy involves shifting away from a mindset that's all about handing teens a list of rules (with corresponding punishments if they're broken). My hope is no longer that my kids will always be weighing the odds of "mom and dad finding out." Instead, "Love and Logic" parenting helps kids think through potential consequences and then own the actual consequences—good and bad. Here's how the Love and Logic website puts it: "When done on a regular basis, kids develop an internal voice that says, 'I wonder how much pain I'm going to cause for myself with my next decision?'"
It might sound harsh—allowing our kids more opportunities to experience pain—but kids gradually reach this level of thinking with plenty of loving guidance, parameters and coaching from parents.
One of the things I love most about this approach is how well these thinking skills will serve our kids all the way into college and their adult lives (long after they leave the safety of our home and neighborhood). It's critical thinking at its best, applied to everyday life: thinking through possible outcomes, weighing potential fun against potential consequences, problem-solving and considering alternatives along the way.
Seeing as how I'm in the midst of this process—training our kids to think critically and ourselves, as parents, to let go—you can imagine my reaction to this particular part of the Texas GOP's 2012 platform on education (I pulled this quote from a Washington Post column, which includes a link to the entire platform):
We oppose the teaching of Higher Order Thinking Skills (HOTS) (values clarification), critical thinking skills and similar programs that are simply a relabeling of Outcome-Based Education (OBE) (mastery learning) which focus on behavior modification and have the purpose of challenging the student's fixed beliefs and undermining parental authority.
Yep. That's right. Critical thinking is bad. We don't want to teach kids to think for themselves, because they're supposed to have fixed beliefs. AND, their parents are supposed to be in charge. Apparently forever.
This is where I become nearly speechless. I cannot fathom that there are intelligent adults out there who believe teaching our kids to think for themselves is a bad idea. Parental authority and critical thinking are not mutually exclusive! And who on earth really believes that anyone's beliefs could possibly be fixed? The idea of a nation full of people who can't think for themselves and aren't allowed to change their views about things is truly frightening.
Regardless of whether you agree with my basic parenting philosophy (or my politics), I think we can agree that one day, probably when they're about 18 or 20, the goal (in most cases) is for our kids to no longer live under their parents' roofs. Do we (and the Texas GOP) really think that on that day our kids will magically become wise, thoughtful citizens? Or do we just hope that we can extend our "Not under my roof" mentality until it becomes "Not in my state" and then "Not in my country"?

Similar Posts: