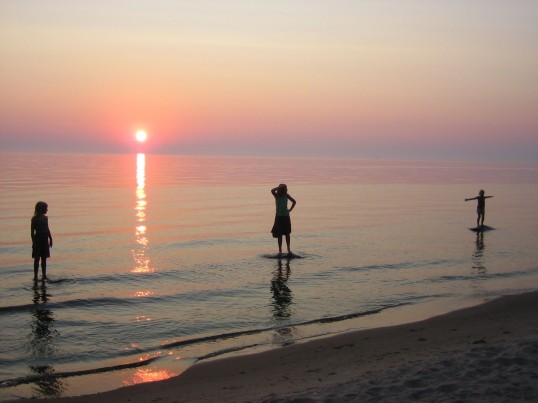 Not knowing what I want seems to be a regular state of being for me. One week I want to publish a book more than anything in the world, and the next week I can't imagine giving up my rewarding, simple life of freelancing and blogging. Sometimes I long for a bigger, nicer house so badly I can close my eyes and imagine I'm cooking away in a shiny new kitchen; then I go through a phase of wanting to pare down and live more simply and efficiently than ever.
This wavering could be a sign that I'm just wishy-washy and fickle inside. But at other times, I wonder if it's a product of the many voices and expectations crowding me from the outside. Maybe what I really want for my life is locked in a constant struggle with what I think I should want for my life.
A recent article in The New York Times, "Redefining Success and Celebrating the Ordinary," provided a solid framework for what had been only vague, inconsistent wonderings:
As Brené Brown, a research professor at the University of Houston Graduate School of Social Work and author of the book "The Gifts of Imperfection" (Hazelden, 2010) said, "In this world, an ordinary life has become synonymous with a meaningless life."
We need to elevate our ideas about ordinary and broaden our ideas about success, the article says. Because not surprisingly, these cultural ideas about what constitutes "meaning" are closely linked to our ideas about success—"extraordinary is often what the general public views as success," the article points out. And who doesn't want an extraordinary life, on some level?
In many ways, I think my own ideas of success are toned down compared to many within my social sphere. I chose, for instance, to be an English major in college, not because I thought it would land me a six-figure job some day, but because I have always loved reading and writing. And yet, these cultural concepts of "success" have a way of recalibrating within the frameworks we choose for our lives. In that way, the desire for success still drives me (or at least it gnaws away at the core of who I am, feeding my fears).
This is going to be one of those posts that leaves you and me both with more questions than answers, but getting to the important questions is always a good place to start.
- How do I determine when fear is holding me back and when fear is falsely driving me forward? Because both scenarios are possible: fear of not successfully publishing a book could keep me from throwing myself into it, while a fear of being seen as an unsuccessful writer if I choose to not to pursue publishing could push me in a direction that isn't right for me.
- How do social media sites like Facebook feed this cultural drive for a life that looks extraordinary and successful from the outside, regardless of whether it feels good from the inside? I worry about this often, particularly as I imagine what it's like to be a teenager growing up with their lives posted for everyone to examine and evaluate.
- "How do we go back to the idea that ordinary can be extraordinary? How do we teach our children — and remind ourselves — that life doesn't have to be all about public recognition and prizes, but can be more about our relationships and special moments?" (I've pulled that question as a quote from The New York Times article.)
- And what are the ordinary-yet-magical moments I value most in my life? What if a "good day" and a "successful life" could begin feeling more like beautiful strings of those moments and less like a list of accomplishments suitable for a resume? How might my shifting view of success impact my kids?
As always, I'd love to hear what you think!
————-
If this topic interests you, it's very much related to a column I've started writing at RELEVANT, which focuses on discovering who you are supposed to be rather than what you are supposed to do. The first post in the series is here, and the second is here.

Similar Posts: