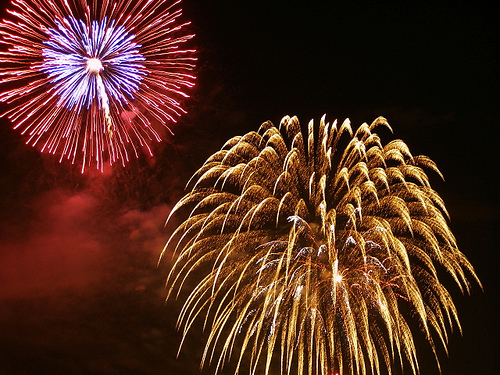 It was Canada Day, and we were telling friends over lunch about the all-out Canada fest we were invited to that evening, hosted by a Canadian friend. Suddenly, I realized the day to celebrate MY home country was just a few days later, and while we had elaborate Canada Day plans, we had no plans at all for July 4th.
"We better do something about that," I nudged Jason. As I said it, I realized my desire to have a plan was more about 1) not feeling lame and left out, and 2) not being pegged as "those anti-American socialists" than it was about a deep-seeded desire to celebrate being American.
While I think it's perfectly fine to be ambivalent about these things—in fact, it always feels more honest to me to have complicated, mixed feelings about politics, religion, heritage, etc. than it does to buy in to the whole package—I did start pondering what being "American" means to me.
"Freedom" was, not surprisingly, one of the first concepts that came to mind. What came right along with it was the recognition that my feelings about freedom don't necessarily look like traditional, patriotic expressions of the word, but that my experience with freedom is just as important to articulate, and every bit as valid.
So what does freedom look like, to me?
- Freedom is choosing to be a part of a community that looks out for one another, in a culture that's all about pulling oneself up by your bootstraps.
- Freedom is having access to thousands of books and ideas, and having time to reflect on them, discuss them, and even change my mind along the way.
- Freedom is being able to say "I don't know" when I'm faced with tough questions—it's about valuing the discovery process over the ownership of "right" answers (and parenting my kids from that perspective).
- Freedom is not just going to church on Sunday to freely worship my God, but going to a church that gathers together the most diverse group of people I'm likely to be around all week, not the most homogeneous group.
- Freedom is loving the strange mess of characteristics that make me ME, even when some of those characteristics seem contradictory and don't "fit the mold."
- Freedom is about realizing that some constraints—a form—can bring more true freedom than doing whatever I feel like doing in a life without boundaries.
- Most of all, I believe freedom is found in our ability to disagree about what freedom looks like.
From where I stand, the increasing polarity in our country is the greatest threat to our freedom, even though many cling to that polarity as the very thing that will protect them. I'll admit, I get really riled up about certain opinions and positions that run counter to mine, but I also fully recognize that living in a country where people can disagree—with kindness, thoughtfulness and respect—is something I value highly, as a form of freedom.
That polarity also thrives on our cultural dependence on stereotypes and the way we jump to conclusions about people. While I get worked up about the use of stereotypes, it's almost worse when people fit those stereotypes—when they become caricatures of the polarized extremes we've fallen into. Because that's another thing I value as a form of freedom: living in a country where we can still surprise each other, in a mind-opening, joyous way that blows all the categories to pieces, like fireworks on Independence Day.

Similar Posts: