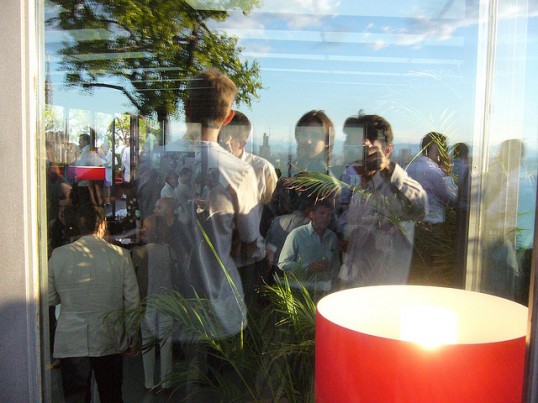 Sometimes Twitter feels like a huge, hip cocktail party. I am a guest who is regretting what I chose to wear, in one way or another. It is too casual, or too formal, or maybe it's just uncomfortable and makes me feel less like myself than I already feel.
I sort of know everyone, but not really at all, so my face grows stiff from the smiles and forced animation. Even though I know it's a party, full of interesting people, it feels like so much work. When I scan the room, my mind takes everyone in as a whole. Rather than seeing one person with a bit of wit, and another with a recent accomplishment, I see the sum total of the room: so much wit, charm, and accomplishment, all rolled into one super-being I can't begin to keep up with.
That's how it's felt lately. I've had to keep Twitter at an arm's length these past few weeks, as a sanity move. There are just too many other things that are up in my face right now—too many deadlines, too many people counting on me. When I stop by Twitter, I feel the weight of the many other things I want to be or should be doing, because it feels like everyone else is doing all of those things. They are all tending gardens and spending quality time with their children. They are baking pies, writing daily blog posts, and finding literary agents. They are reading all the best new books, and going to bed at night with clean kitchens.
Of course I know this is silly, but I've already explained the strange trick my mind plays, this ability to take each individual person I follow on Twitter—all 1,480 of them—and create a conglomerate super-being. That's what happens when Twitter feels like a huge cocktail party.
But at other times, Twitter feels like a cozy dinner. It's a small group of individuals, gathered around a table, listening and sharing. We wear comfortable clothes and eat comfortable food. Each individual might have a measure of wit or intelligence, but they also each have a measure of struggle and disappointment. Maybe one bakes pies and another blogs almost every day, but there is no single person at the table who does everything. We are each real and flawed, finite and full of potential, and we're able to recognize this in one another (and therefore accept it in ourselves).
This week, in the midst of my streak of social media agoraphobia, two Twitter friends stepped out of the crowd and into my dining room. Shawn and Maile Smucker, with their four little ones in tow, stopped through on their way across the country, tasting not just our food, but also our ordinary life. We sat at the table and shared stories, their kids playing with toys that my kids loved but have outgrown. There was some dust on the piano and dog hair on the sofa, but I felt good about my life. After dinner, we walked through our neighborhood to the park, laughing at the kids' antics, talking about different places we've lived, then returning home as dusk settled in.
The next day, Twitter felt different. I noticed I was once again able to see my social media community as a group of individuals, like Shawn and Maile—approachable, knowable, caring, and real—making me wonder how I ever slipped into that overwhelming cocktail party, full of its mind tricks and distortions. We are, in the end, each individuals, doing what we can and learning to call it enough.

Similar Posts: