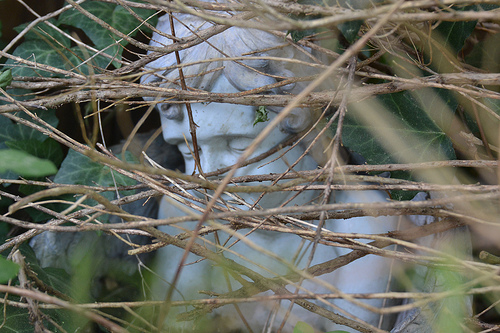 At the writers' conference, surrounded by hundreds who boldly claim the title "Writer," it's easy to feel both more and less like a Real Writer.
Making my way from one session to the next, I'm struck by the wonder and audacity of it all. So many lovers of words in one place. So many book ideas and manuscripts, so many stories, each unique yet carrying strong genetic ties to The Story of what it means to be human—of beginnings and ends, of dreams and failure, of hope.
Of course, there are writers and there are Writers. I sit and listen to Ann Voskamp, Jonathan Safran Foer, Marilynne Robinson, drinking in their words with gulps and gasps, as if to keep from drowning. I recognize that my sense of awe also has another, shadowed side, one that wonders "Who am I to put thoughts into words, and put them out into the world?"
After all, too often I feel empty, blank. Too often I am full of fear, diluting or avoiding the story that needs to be told. Too often I rush my words, squeezing them in to small crevices of time where they sit cramped and cold, without room to breathe and bloom.
But these writers speaking to me in session after session at the conference? These accomplished, prolific writers of gorgeous prose and provoking thoughts? They tell me they have been there too. They speak into my spaces of doubt.
"Maybe creativity is this," author Ann Voskamp begins, "being comfortable not knowing; taking the posture of prayer; waiting." An auditorium full of writers, all on the edges of our seats, leans into her quiet, careful words. "When you feel empty, that's the right creative space."
I breathe—more deeply than I have in months. It's as if she has dug all of my doubts and fears out of the jumbled junk drawer of my mind, and carefully laid them out to examine them one by one, speaking directly to each in calm, measured tones rather than addressing the tangle as a whole. Lately I have wanted to yell at the jumble, or to simply run away, but the random junk doesn't look so threatening laid out like that. It almost makes me smile, as I gaze at each random curiosity I've acquired and held onto, even though I've known it is of no use to me. Together they fill an entire compartment of fear, but on their own they are small, harmless, easier to dispense of.
"Expect to bury something if you want to create. You'll either bury your fear in faith, or your talents in fear." Voskamp's voice speaks of wrenching decisions, but it is soothing and I know her words are true.
I know I need to slow down my life—to stop "blurring moments into one unholy smear." I know I need to clear out the fears and make room for poetry, and vision, and encounters with God. "Without vision, the people parish," Voskamp reminds us, quoting Proverbs 29:18.
I have become parched and brittle, but now I know what I need to do to emerge and move forward, paying attention to the moments and doing my small part in what Voskamp believes to be the calling of writers: "…speaking a language of amazement into a culture that feels it has been abandoned."

Similar Posts: