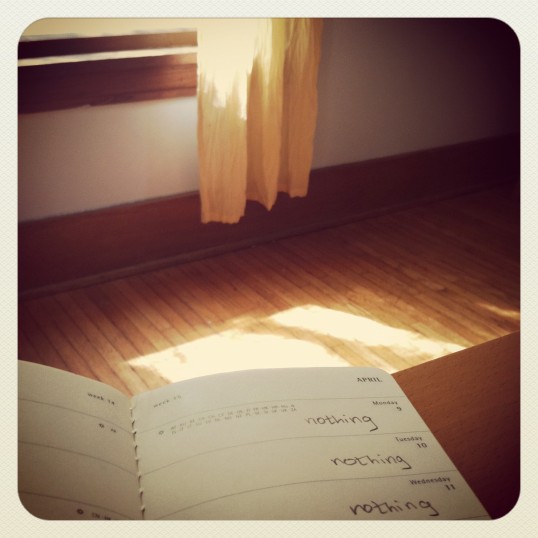 "I'm bored!" was probably the most common of the slightly whiny phrases I uttered as a kid (after "I'm hungry!" that is). My mom was skilled at both feeding me creative ideas and tasty snacks, so I survived childhood just fine.
Now, that feeling I dreaded as a kid—of flat, empty, unchanging time creeping by like a stretch of Nebraska interstate—fascinates me. I know what it's like to pass time being lazy or frivolous, but I can't imagine what it would feel like now to be truly bored.
It seems like Time has been on my mind a lot lately. As the keeper of the family calendar, there are always plenty of opportunities to think about how we're "spending" our time, and as a bill-by-the-hour freelancer, I can't help but be aware of "saved" and "wasted" time. Our culture is full of opinions and suggestions about how we spend and waste our time. (Ironically, just a month ago, I wrote an article for RELEVANT doing just that—suggesting "better" ways to "waste time.")
But mostly, this past month, I've been thinking about time not as currency, but rather as space. A pause. A small stretch of empty moments not necessarily waiting to be filled. It's the sort of space that might even induce boredom!
Somewhere along the way my kids picked up the phrase "If you're bored, you're boring," but I'm beginning to think there could be another way to look at it. An article I recently read suggests something I suspected back in the days of watching my little kids play and create within large swaths of empty time: Boredom (or at least space in our lives) is an important ingredient in creativity and innovation.
I know it sounds strange, but I welcome boredom. It forces me to ponder. But to make sure we're on the same page, when I speak of boredom, I'm not referring to killing time on your smartphone, your iPad, or your laptop. I'm not even talking about paging through a book. I mean bored as in doing absolutely nothing.
Doing nothing.
Absolutely nothing at all.
Not only is doing nothing against our drive as individuals, it goes against the entire grain of our culture. I'm not even sure most of us know how to leave room for nothing, let alone how to do nothing. Even the way we phrase it—"doing nothing"—suggests that nothingness is still an act, something we do (worthy of putting on our To Do lists!). The closest I get to doing nothing is taking a walk or knitting, which are both still something, but at least they are available to the possibility of losing myself in open-ended stretches of time and thought.
I'm not sure how one gets really good at being bored, but I'm certainly going to experiment. I owe it to myself, because that sense of time as space seems to be the key to so much of what I love, and long for, in life—creativity, ideas, really seeing and hearing what's around and inside me, and idly whittling away the hours with people I love.

Similar Posts: