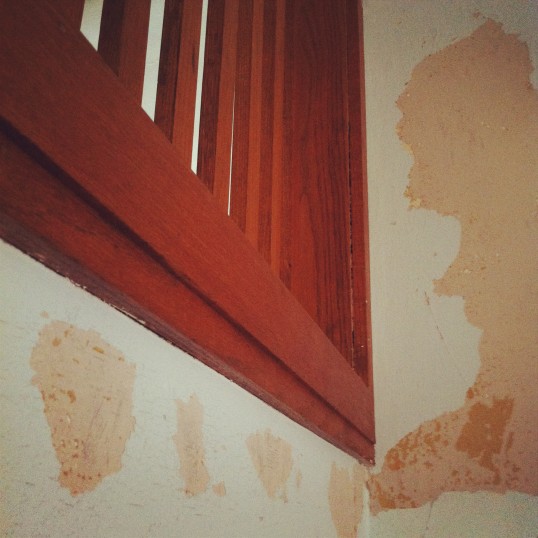 During the hour that Jason was home for lunch today, we not only consumed some leftovers, but also had a consultation with a home repair expert, moved some large pieces of furniture out of our dining room, and added to the growing piles of scraped paint on the dining room floor.
It's part of the never-ending cycle of living in a home that is both old and a bit too small for our family of five. We settle in for a while, comfy and content, but then one day I can't stop looking at that flaking paint, or we're tired of waiting to use a bathroom, or we get utterly fed up with the daily clutter and our lack of storage. It's a straw-that-broke-the-camel's-back cycle: There's underlying contentment disrupted by small annoyances that always manage to reach a tipping point—something that puts us over the edge.
So we rearrange rooms and paint, we remodel space in the basement, and inevitably we travel to IKEA to find a few pieces of furniture that will add storage, help delineate space, give us a larger worksurface in the kitchen.
And then every so often, when all of the small changes don't add up to a big enough difference, we talk about buying a larger home or building an addition onto ours. We dream, plan, sketch, and keep half an eye out for for-sale signs, before eventually turning back to our smaller, reasonable improvements.
How can I love AND be annoyed this much by a single structure made of wood and plaster, with old, wavy glass views to the world outside?!?
Respecting a living relationship with an inanimate structure
Our relationships with our homes are clearly complicated. For most of us, it isn't just a matter of practicality—making a list of the square footage and number of bathrooms you think you need in a house and then finding one that fits. Our real connection to our homes isn't built with wood so much as it is built on things that are less tactile, and harder to nail down. Emotions, memories, symbolism, and even some inner vision of what could be rule how we feel about this place where we sleep and eat, talk and cry.
Even though the house itself isn't a living, emoting creature, the relationship between me and my house certainly seems to breathe and change. Like with any relationship, there is give and take, compromise, and sacrifice. Sometimes what people see in my home is simply the product of things like budgets, time, and old-house bad luck, but still, a house always says something about the people and priorities that live there. Our homes are iconic.
At times, the delineation between me and my house seems especially fuzzy, whether I'm seeing the clutter and signs of age, or at the warmth and light, the places that represent thought and reflection and those that are designed for conversation and connection. My home is like me in so many ways—it's not perfect and needs work, but it also has value that runs deep beneath the surface.
So, for now Jason and I will continue to prod and poke, scrape and shift with this house. Sometimes I just wish it could be easy, that our home could somehow magically be right, but I am trying to remember and respect that my relationship with home is just like any relationship: deserving of care and attention, patience and work.

Similar Posts: