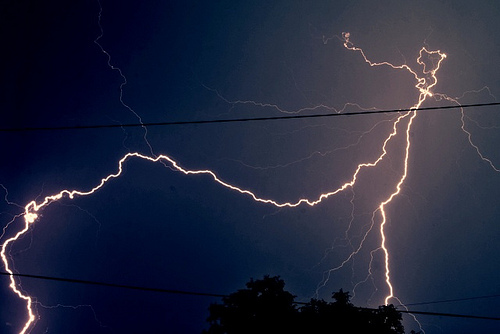 All day Monday and all day Tuesday, my brain felt both blank and frantically busy, like a ping pong ball wildly bouncing around in an empty, concrete cell. It's a busyness that exhausts, but has nothing to show for itself at the end of the day.
It's never a fun state of mind, but for a freelance writer and blogger, it's devastating. Ideas are my bread and butter. The bones of ideas, fleshed out with words, are what I sell, so when I need some ideas and can't conjure up any to save my life, I start to panic. I imagine it's a bit like being a professional musician and one day picking up your instrument and not being able to play a single measure of coherent notes—not being able to even eek out a pleasing sound.
Of course, I've been at this bleak mental place many times before, and somehow I've made it to the other side. Brainstorming is often what calms and organizes my frantic mind. I step away from my computer and jot ideas down on paper, with a pen, taking the pressure off and giving my mind space to roam. Even better, I corner my husband or get on the phone with a colleague and start thinking out loud, sharing my ideas and hearing theirs, kneading together our different perspectives and pulling them into new shapes.
Does brainstorming work?
I've been a fan of brainstorming since my first job as a writer at a design agency, so I was very interested in an article in the January 30 issue of The New Yorker, "Groupthink: The brainstorming myth." In a nutshell, the Jonah Lehrer article suggests that people are actually more creative when they're working alone; that criticism enhances creativity and idea generation (as opposed to the no-criticism-allowed rule that goes hand-in-hand with brainstorming); and that creativity can't be orchestrated or planned.
It got me thinking about brainstorming—what works for me, and why. My take on this is, of course, anecdotal, not scientific like Lehrer's article, but I've come to at least two conclusions about brainstorming. The first is that I'm not more creative when I'm working alone.
As an extrovert who works alone on creative projects pretty much all of the time (which has been the case for my past decade as a freelancer), I have identified clear benefits to a solitary workstyle, like heads down time to execute great ideas. But the generation of ideas is consistently more successful when I'm collaborating with others. If I can't find anyone to bat ideas around with, I try to at least get out of the house and go to a cafe where I can be surrounded by others who are working and thinking (or at least it looks like they are). Alone is not my most creative space.
Should brainstorming be a "nice" experience?
My second thought about brainstorming, which was sparked by reading Lehrer's article, is that "nice" and "accepting" brainstorming environments don't cut it. As Lehrer explains, brainstorming was "invented" in the late 1940s by an advertising agency guy named Alex Osborn (yes, think Mad Men). Osborn's "most celebrated idea"—the one he said was most important—was the "no negative feedback" rule. In his book Your Creative Power, Osborn wrote: "Creativity is so delicate a flower that praise tends to makes it bloom while discouragement often nips it in the bud." (Seems to me like Osborn should have brainstormed for a less cheesy metaphor there, but I guess it was 70 years ago.)
I have to admit, I've always liked the full acceptance mode of brainstorming sessions. The whole no-bad-ideas, anything-goes mentality does seem freeing in the moment (and it's certainly a refreshing space to spend time in, in a world that's hyper-critical). But I also really buy the theory that some criticism and adversity can make ideas better. I think we need to ask ourselves what it is that we hope to achieve from a brainstorming session. Do we truly want the biggest, best ideas, or do we want a bonding session—an exchange of warm fuzzies?
Ultimately, I think there's little point in interacting with others unless we're willing to be truly engaged—pushing and pulling rather than just blindly accepting, challenging each other to see something in a new way rather than just more choir preaching. Also, when there's no pressure we're more likely to settle for "good enough." Mediocre ideas give birth to more mediocre ideas (which suddenly don't seem so bad when you only have other mediocre ideas to compare them to).
But when we're up against the wall and the pressure is on? Something shifts. When someone questions our idea and we have to defend or modify it? Something shifts. When we hear a really wild idea, or maybe even a really bad idea, and we're able to identify and articulate what it is that doesn't work, and what might make it better? Something shifts.
Leaving our pride at the door
For those of us who are not willing to give up on the concept of brainstorming, we're left with the challenge to improve the process so we're not wasting our time. If a little more adversity would do the trick, perhaps the real question is this: Are we willing to let go of our pride, competitiveness and defensiveness in the pursuit of great ideas?

Similar Posts: