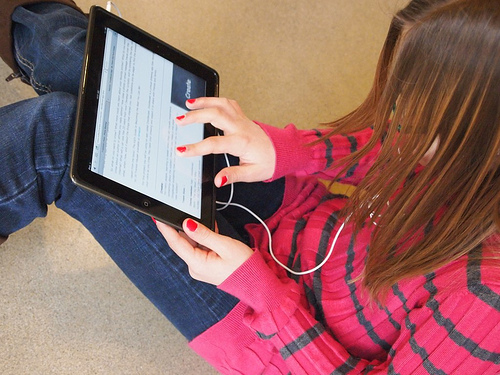 Too much screen time can be detrimental to the emotional and social development of adolescent girls. A new parenting book advises Americans to parent more like the French. And then, of course, 13-year-old girls are walking around malls advertising clothing stores that are known for half-naked models in suggestive poses.
Do these bits of "news" (found here, here and here) add up to anything (besides the fact that I'm starting to sound really grumpy and old-fashioned)?
Unfortunately, I think they do. I've been trying to calm my growing sense of distress long enough to think clearly and put my finger on what these trends add up to, and for now I've come to this conclusion: As parents, we're rapidly losing sight of common sense.
When a study has to point out that our kids' social and emotional development are nurtured not through screen time, but through face-to-face interactions, something has gone wrong.
When we look at French parents who encourage their kids to do basic things like entertain themselves and try new foods, and we think it's advice worthy of publishing in a book, something has gone wrong. (I admit I haven't read the book—I've just read articles and heard interviews about the book.)
When a parent (like me, for instance) is horrified by the image on the Hollister shopping bags kids are carrying around, but then wonders if she's just "old fashioned" and "out-of-touch," something has gone wrong.
Before there was Google, parents had guts
Maybe the real problem is actually this: not that we lack common sense as much as we lack the ability to trust our guts. As parents, we've forgotten who is in charge. Let me explain what I mean by that. I don't consider myself to be an overly authoritarian parent—I'm a fan of listening to what my kids think, being flexible, and choosing my battles. But I think, as parents, we've lost our sense of certainty in what we believe—what we know—in our guts.
Instead, we've folded under the pressures of "changing times." We let technology, marketing, trends, and the crowd-sourced opinions of a bunch of kids (and their overwhelmed, baffled parents) make us second-guess what we know about the world. We tell our kids not to give in to peer pressure, but then as parents, we're giving in at every turn: Sure, if all of your 10-year-old friends are on Facebook, or eating (fill in the blank) for lunch, or staying up until 10pm, or watching Glee, I guess we should let you, too. After all, we wouldn't want to be seen as the stuffy, out-of-touch parents, right?
While we were eating lunch today, I ran my thoughts on this issue by Jason, and he shared a really insightful analogy. He brought up immigrant families, whose kids know the language and culture far better than their parents do. "The power structure between the parents and the kids suddenly is flipped," Jason said. The kids are the ones with the knowledge and the parents are the clueless ones, trying to keep up. That's similar to what it's like for many (if not most) parents today when it comes to technology and social media, Jason pointed out. Our kids know the language and the "rules" better than we do. Rather than seem old school and out of touch, we defer to others and let a lot of stuff fly.
The importance of remembering what hasn't changed
I get it, and believe me, I'm susceptible to that line of thinking, as well. But then I read something like this (from the Stanford University study), and everything I've known for so long becomes crystal clear, once again:
"When we media multitask, we're not really paying attention to the people around us and we get in a habit of not paying attention, and thus when I'm talking with you, I may be hearing the words but I'm missing all the rich, critical, juicy stuff at the heart of emotional and social life." – Researcher Clifford Nass

That's why it's so important to keep reminding myself that while so much is changing, certain things are also timeless—rest, balance, conversation, respect, eye contact, emotion. My gut knows a lot about those things. As a parent, it's my responsibility to apply what it tells me and teach my children well.

Similar Posts: