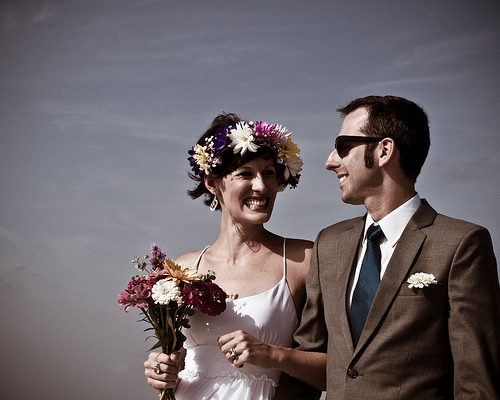 We learn early on in life that choices aren't easy. It starts small—a five-year-old staring at 101 ice cream flavors, trying to decide which one will live up to her expectations and fill her with contentment rather than second-guessing or regret. Later we choose what instrument to play, who to invite to our slumber party, which college to go to, what to wear to the big job interview, and maybe, eventually, who to marry.
Somewhere along the line, way back with the ice cream flavors and slumber party invitations, I learned two important things about choices: Each possibility and choice comes with consequences, but that doesn't mean that only one choice is right. In other words, life isn't a big game show, with God shuffling around coconut shells asking you to pick the one with the prize under it, or urging you to guess the right door to open and walk through. Maybe I would wish, as a little girl eating my Blue Moon ice cream cone, that I had based my choice less on color and more on flavor, but I still had ice cream, and there would be another chance to make a different choice.
In general, it was very liberating to move from a "God has a Plan for my life that I must uncover" to a looser, more free-flowing navigation system: "There's more than one good path available here, so I can take the information I have, make a choice that feels right, and move forward without fear or regret." The more I embraced this belief, the less I deliberated. I was better able to go with the flow as it presented itself.
Some choices are bigger than others
But then I got married. To the guy I was in a serious relationship with when I graduated from college. It seemed right at the time, and why not? After all, I believed there wasn't just one right man in the world for me. There were several paths, I was choosing one, and it would all work out.
I still believe that general philosophy, nine years after our marriage ended. But I also believe that the people who are "right" or "not right" for us fall into a full spectrum rather than into two categories. In other words, there are definitely people out there that are much MORE right for any given person than others. It's really important to take the time, if you can, to really examine yourself and the decision.
That's why I was a bit disheartened when I read this book excerpt about marriage by Tim Keller. The headline—"You Never Marry the Right Person"—caught my eye and raised my suspicions. After all, maybe I'm just being a romantic idealist, but I do feel like I married the "right person" when I married Jason, my second husband, four years ago.
In the article, Keller says several things I agree with, like "…today people are asking far too much in the marriage partner." (Agreed—my expectations were definitely too high when I was in my 20s; a divorce sort of served as the ultimate reality check.) And I generally like the definition of marriage Keller gives: "…two flawed people coming together to create a space of stability, love and consolation…."
But the idea that "you never marry the right person" doesn't sit right with me. Keller quotes Duke University Ethics professor Stanley Hauerwas:
Destructive to marriage is the self-fulfillment ethic that assumes marriage and the family are primarily institutions of personal fulfillment, necessary for us to become "whole" and happy.
I agree, it's wrong—even dangerous—to go into marriage or have children with the primary goal of personal fulfillment. But I also believe that some people bring out the best in us and help make us more whole, while others amplify the worst in us, and leave us feeling more shattered. I know it's silly for me to debate the likes of Keller or Hauerwas—I haven't written an entire book or thesis on this topic, but I have lived a life, and I've learned a lot through my experiences.
Who you marry matters—a lot

Ultimately, that's why I felt the need to write a post on this topic in the first place. Not to ignite a debate, but to say this very clearly to anyone who isn't yet married but thinks they might want to be some day: There may not be a single "right" person for any of us, but there are definitely people who are more right than others. It is possible to be married and say, year after year, with great confidence, "I married the right person."
And there's real danger in believing "you never marry the right person"—the danger of not taking this incredibly important decision seriously enough.


Similar Posts: