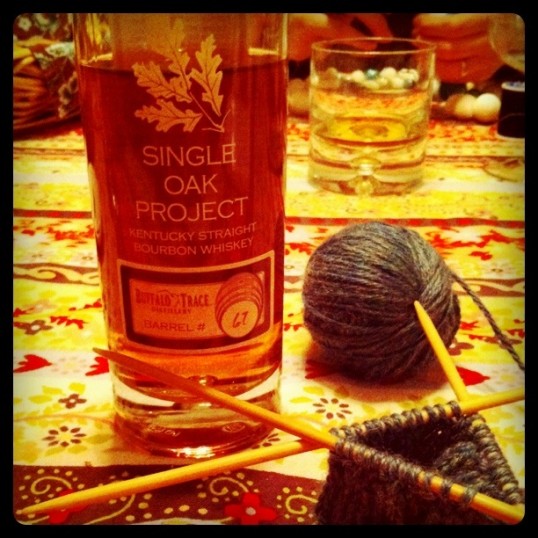 knitting and whiskey; bible and beer; makes me curious for what you have on friday nights! (via @stephdavidson)
Yep, that tweet was directed at me (and my mom is surely cringing as she reads this). It has been a week filled with some of my favorite activities and favorite people (and lest anyone get concerned, my Friday night will not revolve around any alcoholic beverages).
Clearly I'm a fan of unexpected combinations. I realize there's a risk that they come across as nothing more than hipster gimmicks, but the fact that they genuinely speak to some remote part of me in a powerful way got me thinking. Something special happens when two things I enjoy are brought together in the right combination. It's like when I tasted dark chocolate with sea salt for the first time (and every other time since, for that matter). Boom! A flavor explosion that makes me sit up, take notice, and forever think differently about both chocolate and salt. (My love for that combination also inspired me to try bacon chocolate. Who knows what's next?)
Our regular Bible & Beer sessions are just like that. I love a good theology discussion, but if you put that discussion in a church basement with bad coffee, all that theology tends to hit my senses with an effect similar to the coffee: It tastes old but at least it's warm and gives me something to help pass the time. If you take the theology—especially a big, churchy concept like Incarnation, which is what we talked about last night—out of the church and into a bar, the discussion can't help but be different.
And then there are the people these surprising combinations attract. Take knitting and whiskey. Let's say I would enjoy hanging out with 50 percent of all knitters and 50 percent of all whiskey drinkers (I'm probably being generous, there). But knitters who like whiskey? I'm going to say I would LOVE spending time with 95 percent of those folks. (The same goes for the Bible and beer combo, as long as the people who like both are also willing to engage in both simultaneously. That's an important distinction—a willingness to not compartmentalize the things we love.)
So what's the point? Well, it's Friday, so I'm not going to take the whole "point" thing too far. I just think it's healthy to mix things up in our lives when we can and to kick some stereotypes in the teeth while we're at it. This also makes me think of my old Love List Project, and why I believe it's important to further refine who we are and what we love. After all, the only person who gets to define "normal" for you is YOU.
Can you think of other unexpected combinations that say something important about you?

Similar Posts: