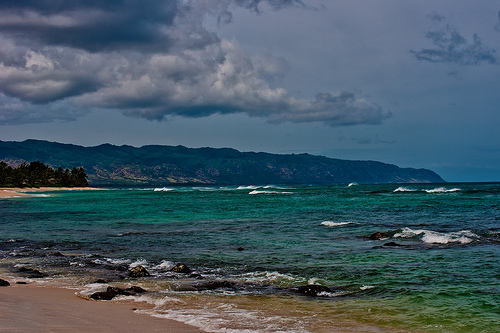 Jason and I recently saw the movie The Descendants, and I can't stop thinking about it.
Before I tell you why, let me warn you: This is a very sad movie (yes, I cried). It's not the sort of movie most people want to see the week before Christmas, when they're focusing on conjuring up comfort and joy. I'm pretty sure it came out when it did because the filmmakers wanted to squeeze in before the Academy Award deadline (and this film is sure to get several nominations and, most likely, awards).
But it also occurred to me, as I sat in the theater, my heart aching, that The Descendants is very much an Advent story.
Here's what you need to know about the movie—no spoilers: It takes place in Hawaii, and the main character (Matt King, played by George Clooney) is trying to hold his family together (immediate and extended) while his wife is in a coma after a boating accident.
Sounds just like the Christmas story, right?
OK, maybe not, but there are several themes that feel exactly right for this season, this moment, and they've helped me contextualize what it is, exactly, that we're both longing for and celebrating.
- Waiting. In the movie, Matt and his daughters spend a lot of time waiting in the hospital. Of course they're waiting with hope that their wife/mother will wake up, but on another level they're waiting for anything that will shake them out of their stuck sameness. They are helpless and suspended, waiting for something to happen to loosen the bonds.
- Wondering. A big part of The Descendants revolves around the mystery of life—the beauty of it pressed up close against the fragility. We work so hard to gain control over our lives, yet life reminds us, again and again, how little we're able to shape,  prevent, predict, or fully understand. Embracing—or at least accepting—the mystery is an important part of having faith in what Jesus came to earth to do.
- Contrast. When you set a story in beautiful Hawaii, then highlight some of life's ugliest, harshest realities, you're pretty much making a movie that revolves around the theme of contrast. Paradise and hardship. Love and pain. Riches and loss. Holiness born in a dirty stable, far from home.
- Complexity. Nothing is straight forward or easy in The Descendants. There are problems layered on top of problems, and ugliness woven into the beauty, anger intertwined with the love. The beautiful Hawaiian landscape spreads itself out beyond the windows of the hospital room, setting the stage for a story that makes you both laugh and cry. Sounds a lot like the stories in the Bible, doesn't it? And also a bit like my story, and the world's.
- Redemption. Ultimately, there's healing and hope out of tragedy and hurt, but the form the healing takes doesn't always look like we think it will. In The Descendants and in life, broken relationships will be made whole, but they aren't always healed the way we think they will be. We will move forward, but not always in the direction or speed we anticipated. The king doesn't always look the way we think he should. And in the end, this is all good, because we don't always know what we need—or where we should hope this life journey will take us.

Similar Posts: