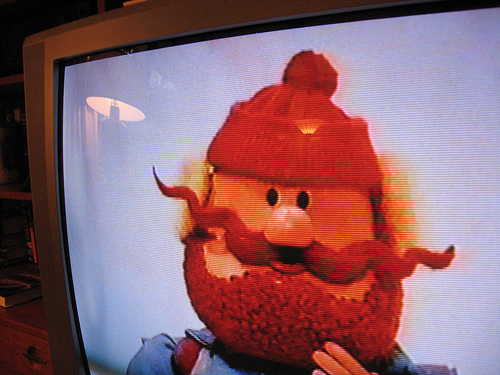 One of Jason's favorite "back when we were kids" stories to tell our girls has to do with holiday TV specials: They were each shown only once a year, and you did everything in your little-kid-power not to miss them. If you missed them, you were out of luck until a whole year later.
In my family, my brother and I scanned the TV guide weekly, keeping our eyes out for our favorite annual shows—not just the Peanuts holiday specials and obvious classics like Rudolph the Red Nosed Reindeer, but also movies like The Sound of Music, Mary Poppins, and Chitty Chitty Bang Bang. When the air times were discovered in the TV guide they went on the family calendar in the kitchen. It seems the entire week was almost organized around them. Judging from the pre- and post-show chatter on the school playgrounds, I'm sure every family in our town was sitting down together in front of the TV at those exact moments. Talk about solidarity!
When Jason tells these stories, our kids find them as foreign as our stories about life without cell phones ("You had to actually make plans and stick with them!") and our stories about writing school reports without the Internet (my parents had two full decades of National Geographic magazines, which I relied on heavily).
Side note: I am not that old! But in general, my childhood involved a lot more waiting. Waiting for the good movies to be aired on TV. Waiting for my parents to pick me up when I finished an activity earlier than expected. Waiting for the chance to go into the city to a real mall to shop for shoes. Waiting for one of my friends to get this new "Atari" game everyone was talking about, so I could give it a try. Waiting for my grandma in California to get the letter I had written to her, then for her to write one back and send it through the mail. Waiting was hard for the eight- or 11-year-old me, but it also seemed vaguely important—maybe even good.
Waiting until Advent to start waiting for Christmas
I was traveling by car this week for work, which means I visit many Starbucks (something I do not do here at home). I was surprised—although I shouldn't have been—to be surrounded by the holiday decorations, gift options, and music. Before Thanksgiving! As I've already said, the increasingly early arrival of the consumerist holidays never ceases to amaze me. (This does mean I'm old, doesn't it? Sigh.)
I've always assumed my annoyance stems from how set in my ways I can be about certain "traditions" I was raised with. Maybe they are opinions more than traditions. Some examples: Never eat at McDonalds (but other fast-food is acceptable); Never question the expense of anything related to hearing or playing music; and Don't even mention Christmas until after Thanksgiving. As soon as our church was being decorated for the first Sunday of Advent (it was a party, of sorts, which the church called "the hanging of the greens") the unspoken vow of silence was lifted. (Now that I think of it, I'm not sure any of the family edicts I mentioned were ever spoken, but they were definitely understood.)
There's no doubt my family culture has impacted how I feel about encountering any trace Christmas before Thanksgiving, but I think there's something more. I think it has to do with the importance of waiting. Waiting for the right time, the right place, the right frame of mind. And even if we feel like we can't wait, or we aren't doing a very good job of it, just the process of trying to wait—trying to live within that rhythm and discipline—seems like a worthy exercise.
After all, in my Christian tradition the season of Advent—the four Sundays leading up to Christmas—is all about expectancy. And expectancy comes in layers; it builds. First there's the pre-waiting, or the waiting to wait. That's not just what I'm doing now, but also what we're doing as kids in July, when we think of some toy we really want but will probably have to wait until Christmas to get. That pre-waiting builds until the real, active waiting can begin with Advent, along with all of its preparations and cues, from songs and cookie recipes to the sight of wreaths of purple and pink candles.
And then, without fail, the night we've been waiting for does arrive. It can't be recorded for later, to be experienced at our convenience. It can't be seen on-demand. We have to clear the calendar, and all come together at once, to experience and even begin to understand it fully.

Similar Posts: