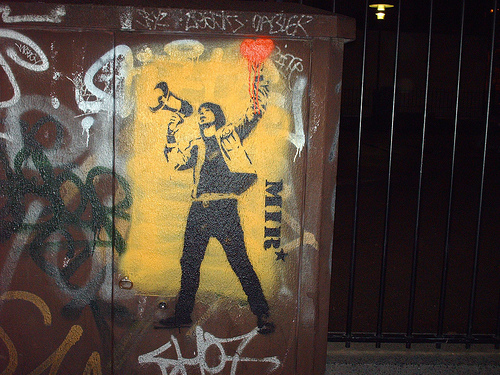 I'll be the first to admit—my hackles are very easily raised. Probably too-easily. There are a lot of things out there (especially on the Internet, most often related to faith and politics—what else?) that I should simply roll my eyes at and ignore.
But something in me says my hackles get raised for a reason, so I shouldn't just smooth them down (can hackles be smoothed?) and carry on. God gave me these hackles, after all, and also the ability to communicate. The challenge is choosing our battles. How do we know when to move on and when to speak up? And if we decide to speak up, what's the most effective way to go about it? After all, our goal to should be to make a positive difference, not to just spew frustration and ignite the same sort of aimless frustration in others.
Fear vs. love
Recently, I did a bit of that aimless spewing, after I took a look at this video posted on the blog Jesus Needs New PR. The video is just another example of Christian Evangelicals using, as the blog's author describes, "whatever hardships that America is facing, add[ing] a few of our political and social opinions, and then construct[ing] a web of fear in hopes of converting a few scared hopeless people to our US-manufactured God Brand." In other words, it's all about fear and punishment, not the hope and love that characterize Jesus.
My frustration exploded in tweet-shaped form; I shared the link, with the strong suggestion embedded in the post's headline:  "THIS is what's wrong with American Christianity." A Twitter friend, the humble and, I'm sure, less-easily-outraged @cunningpike, responded:
I think there are a lot (most?) of churches doing good things, but doing it quietly in the truly Christian way
Finding that loud-yet-humble balance
His observation made me both take a step back from my cynicism—Are there a lot more churches than I think focused on promoting the love of Jesus?—and question what's at the root of my misconception. The problem, I suggested to @cunningpike, is that "non-Christians mostly only see/hear about the others"—the churches that are sinking lots of money into videos and billboards that suggest God is punishing America for whatever.
…"so I guess maybe what I'm saying is that those 'quiet' churches doing good have to be more open about it!" I concluded.
Forget about fighting the maddening, ridiculous messages head-on. Instead, counter them with even more radical love, and be even more vocal and visible about it.
I know that's easier said than done. It's hard to do good and then share it without coming across as egotistical and proud. It's hard to be open about your beliefs and your church community when you suspect a large percentage of the people you interact with will be dismissive (or worse).
But I think most of us have been too quiet—too embarrassed. We need to be loud about Jesus' love and his "third way." I know there must be ways to go about it that don't involve shouting, offending, or bragging. Sharing stories rather than headline-style messages is one great way. Do you have other ideas about how we might be loud, without the sharp edges?

Similar Posts: