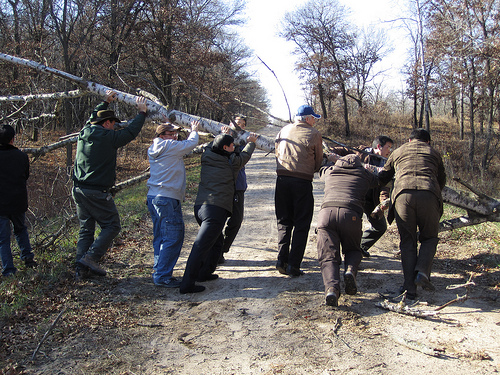 Human beings are confoundingly funny. And by "funny" I mean "contradictory." We preach one thing then do another. We wish for X, complaining because we don't have it, then we find a reason to complain about it after we do have it.
Take me, for example (since I'm the human being I'm most allowed to roll my eyes at). I say I'm an extrovert. I admit that I don't like to tackle things alone. But boy-oh-boy am I proud when I do (or when I think I've done something on my own, or can at least present it that way).
What is that? What instinctive, human urge makes us lean in the direction of individualism, even though we seem wholly wired for community?
The pull-yourself-up-by-your-bootstraps lie
Yesterday, Jason read me this quote from Massachusetts U.S. Senate candidate Elizabeth Warren. I admit, I wasn't familiar with Ms. Warren until yesterday, so I can't really get all promotional about her, but I LOVE what she has to say here. And I have a hunch it has so much to do with what ails us in America—from our economy and education system to our relationships and ability to find happiness.
You built a factory out there? Good for you, but I want to be clear: you moved your goods to market on the roads the rest of us paid for; you hired workers the rest of us paid to educate; you were safe in your factory because of police forces and fire forces that the rest of us paid for. You didn't have to worry that marauding bands would come and seize everything at your factory, and hire someone to protect against this, because of the work the rest of us did. Now look, you built a factory and it turned into something terrific, or a great idea? God bless. Keep a big hunk of it. But part of the underlying social contract is you take a hunk of that and pay forward for the next kid who comes along.
It seems to me that if we buy this rags-to-riches, pull-yourself-up-by-your-bootstraps, look-what-I-did—why-don't-you-get-off-your-butt-and-do-it-too attitude, we're fooling ourselves. We're not admitting all of the help we've received along the way, and all of the opportunities we've been given. We're not recognizing that we did not do this alone any more than we could package all our talents, smarts and skills and put them into a kid in Papua New Guinea, then watch her accomplish the same thing "alone."
Re-tracing our paths to success
The biggest problem with not recognizing the help and opportunities we've had, it seems, is what Warren touches on at the end of her quote: We fail to "pay it forward." We don't look out for those who don't have the same opportunities. We don't fight for justice. We become greedy and think that everything we've made is ours, because we earned it. We don't owe anyone—we don't even owe them the same basic opportunities and services we've had.
What if, instead, we each started by taking an accomplishment—just one big or small thing we're proud of—and creating a map of everything that got us there. Every civil liberty and public service. Every positive trait your parents helped hone. Every educational opportunity and great teacher or mentor. Every encouraging word from a friend and serendipitous encounter with a stranger. Every lame part-time job that paid the bills while you were busy working toward a degree or chipping away at a dream. What if we just wrote it all down and took the time to let it sink in—nothing more?
You know what I think? I think if we completed that exercise, with honesty and thought, this world would be a very different place. What do you think?

Similar Posts: