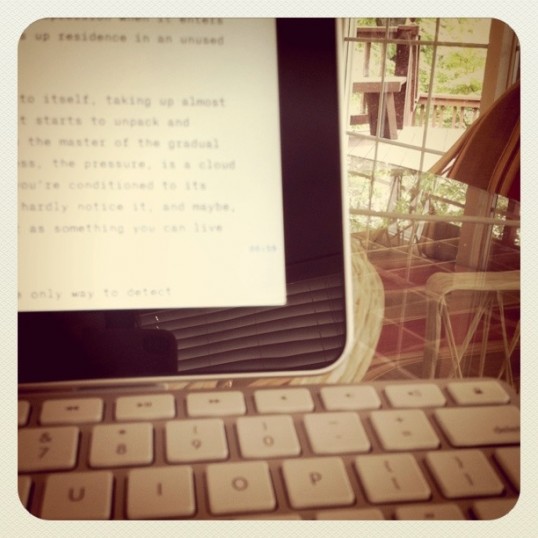 Some people say you know you're really good at something if it's easy—effortless. Others say to be good, whatever it is you're doing should feel really hard. It not only requires work, it should feel like work.
I suspect the task has to be both—easy and hard, in layers, dancing together, trading places, making you feel bruised, confused and exhilarated when it's all said and done.
I know this is true for me when it comes to writing. Sometimes I can go through days at a time filled with easy writing—writing that just effortlessly flows from my mind through my fingers, words that come together as they should and mean what I'm trying to say. And of course, there's a big part of me that would like writing to always be like that. I was always the kid who wanted things to be easy—who wanted to be first chair viola without having to diligently practice.
But while the easy writing is enjoyable and satisfying, it's also like a meal of empty carbs, providing short bursts of energy and contentment, but no deep, sustaining fuel. That's when I know I have to step away from that comfy place to the land of writing that is less clear-cut and predictable.
It shouldn't be hard, you have to make it hard
I think that's the trick for people who have been writing for as long as I have (I've been using written words to make a living for nearly 20 years): You have to decide to open yourself up to the difficult work of writing. It isn't naturally difficult, any more, and you certainly know all the tricks for making it easy. Making it hard again has to be a choice, and it's a very critical choice to make if you don't want to drift too far from the fire that made you a writer in the first place.
I was drifting from that fire as I made plans for a writers' retreat with my friend Jen (who I've known for longer than I've made my living writing). My book project, which is almost ready to send out to agents, had been sitting untouched for so long I had nearly forgotten what it was about. (When I finally sat down and read again what I had written so far, I was a bit amazed and perplexed by this person, telling this story.) A long-form essay I planned to submit to a compilation project had been started, then abandoned. And while I was keeping up, for the most part, here on my blog, it had begun to feel more like a task, less like a jolt of energy and joy.
What I needed was to make writing hard, again.
Cleansing the palette, then diving deep
A week ago, I wouldn't have been able to articulate that or known how to go about it. But now, after three days of deep-dive writing, I know.
First I removed myself from my regular routine and surroundings, driving eight hours from home, listening to a great audio book on the way. That day of driving was like a palette cleanser, removing the aftertastes of home life, client work, routine.
Once at the lakehouse, each morning started with a walk and breakfast, then I put away my phone and Twitter—in fact, I put away my computer, entirely—and sat in front of only the essay and book chapter I intended to tackle. (I have an iPad with a keyboard dock and iaWriter app, which was the perfect setup for me. This must be what it was like for old school writers to sit at a desk with only a typewriter!)
I read what I had already written, and then wrote. And wrote. I dove in, not with the goal of finishing an assignment or publishing a post, but with the goal of pushing myself deeper into the work and discomfort. I looked not for the easy way to describe something, but the very best way. I went out on limbs of metaphor and simile, not stopping in the moment to criticize my risks and convince myself to play it safe. I could always go back and revise. I will go back. But in those moments, the point was to let it rip.
At the end of all that morning writing, Jen and I would eat lunch, talk, swim in the lake, read our books and marvel over the stories and sentences of great writers we admire. Then we exchanged parts of what we had written earlier in the day, questioning and pushing each other more. (And Jen is no-joke when it comes to pushing me. Last night she had me squirming in a corner.) If we had any energy left in us, we wrote some more, making revisions while the questions were fresh.
By the time we said good night and I was lying in bed, reflecting on the hard work of the day, it was as if I had waged some exhausting but triumphant battle. I felt bruised and worn, but energized by the results, excited at the thought of waking up the next morning and making writing hard, all over again.

Similar Posts: