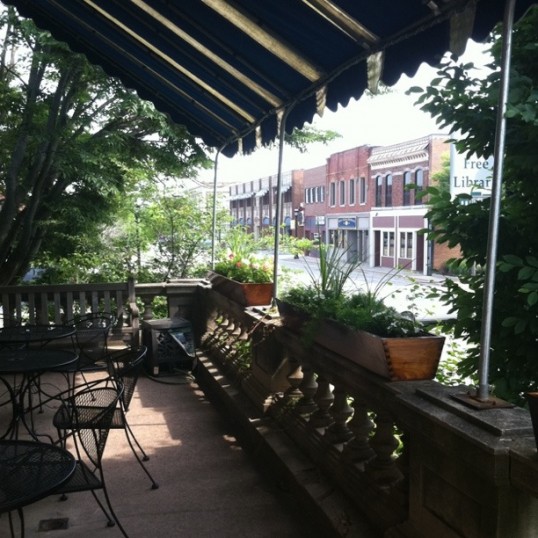 This morning, Jason and I biked to the library (less than a mile from our house), greeting neighbors along the way—Kate working in her garden, Trent sitting on his porch drinking coffee, Joan and her daughter Olivia pulling out of their driveway.
We arrived soon after the library opened, so I was able to snag my favorite table in the quiet reading room—one of the tables along the row of large, arched windows (the marble sills are a perfect place to set my cup of coffee while I work). Not five minutes later I sighed at the arrival of the old man who's notorious for snoozing in the library and clearing his throat every 30 seconds. He took off his hat, settled into a comfortable chair in the corner and got right down to his business.
I didn't want to write on my computer this morning anyway, so I took my notebook out to the library's spacious front porch to write and think and clear my head. From the porch, I can see the town going about its morning all around me. In many ways it looks like a classic, small Midwestern town, similar to my hometown in Michigan, and the town in Iowa where my mom spent her childhood.
But in this town, every day I am surrounded by people who are not like me. There are international families speaking languages I can't identify, who have moved here to attend the university. There are farmers in their pickup trucks who have come into town for business from some outlying community. There are people of different races and socioeconomic levels, who came to this town from Chicago or St. Louis, hoping to make a better life in a place with less crime and better schools. It's a small, Midwestern town with a beautiful sense of complexity.
The difference between a shared space & a shared life
The other day I saw this post about community, and was immediately drawn to it: "The Perfect City: What Does 'Community' Mean to You?" The subtitle really got me: "What borrowing sugar has to do with robust public life."
In my mind, knowing your neighbors and feeling a deep connection to where you live has always had everything to do with living the good life, but I've never really analyzed why. I've simply always chosen my neighborhood first, and then my apartment or house next, even if it means having less house for my money, or bordering areas that have more issues with crime or noise.
The author of the post I referenced pretty much sums up how I feel about these issues, and what exactly about them is so intriguing to me:
I'm relentlessly fascinated by cities and what it is that transforms them from shared urban space into thriving, lively communities full of shared humanity, vision and aspiration….
Yes! What exactly is it that transforms cities and neighborhoods from shared space/geography to shared experiences, goals, and commitment to what's best for all? At what point is a community transformed in the mind of an individual? And when does that transformation tip into something even bigger—something that everyone who moves into the neighborhood can instantly sense and buy into?
What does "community" mean to you?
The linchpin, of course, is not universal. But one way to begin getting a broad sense of it is to ask individuals this simple but powerful question: What does community mean to you?
For me, the simple snapshot of my morning does a pretty good job of illustrating my response:
- Being able to walk and bike to places like the library and food co-op.
- Knowing my neighbors by name and appreciating what they contribute to the neighborhood.
- Having public spaces that attract and are open to a broad range of people—some who are very similar to me and many who aren't.
- Living life through a sense of "shared story"—a shared history with various reference points and traditions, and a shared sense of moving forward together, as a group rather than a collection of individuals who happen to live in the same place.
Does living in a community like this improve my quality of life? I absolutely believe it does (and so do almost all of the 20 or so people who responded to my informal Twitter survey yesterday). I also believe it makes the world a better place, and if we don't begin to go out of our way to value and commit to our communities, a "robust public life" will become a thing of the past.

Similar Posts: