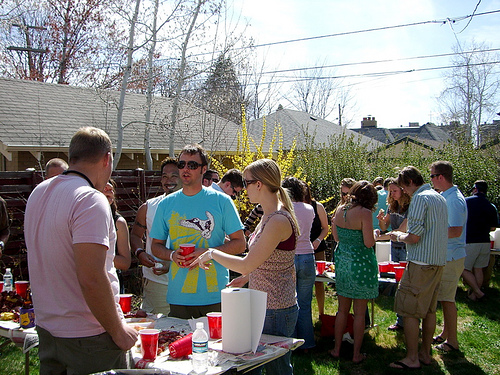 Jason and I had three social events this weekend, each of which brought together many "fringe" friends and acquaintances. It was a weekend of hugs—of "we haven't seen you in ages!" and "we should make plans!"
I realize those sentiments can take two very different tones in our culture. There's the fake approach: "We should make plans to get together (but thank goodness we never do)." But I don't go for those social niceties. In my case, this town is full of people I would genuinely love to have over for dinner if only there were more hours in a day and more days in a month. And whenever I see these people around town, I feel a little stab of regret—where have the days and weeks gone? What are we missing out on by not knowing these smart, kind, interesting people better?
Bringing people together
The first event was a dinner we helped organize to support the community kitchen project Jason and I have been involved in for the past year. About 70 guests  came, as well as a couple dozen volunteers. I loved seeing the range of people coming together around a single idea, but each for their own reasons. There were people who are passionate about food, and people who want to see the community grow through unique business development, and others who had their own story about how their lives intersected with Dan, whose memory the kitchen is being built for.
The second event, later that evening, was a birthday party—an opportunity to celebrate the life of a friend, alongside many of the people whose lives have also been enriched by knowing him. This friend is someone whose life is pretty much dedicated to food, friends, and family, so we've shared many a meal with many different people around his table. Because of our closeness with him over the years, we've been introduced to dozens of other great people.
The third event, Sunday afternoon, was a crawfish boil at the home of friends Jason and I have known since we first started dating. Our relationship has ebbed and flowed over the years, but each time we find ourselves sitting down together (or in this case standing around a table piled with crawfish, cracking them open), the connection is real—we skip past the small talk and go straight for the things that matter in our lives.
Why casual friendships matter
Ultimately, though, here's what these events made me realize (besides the fact that weekends can be busy and fun):
- People enrich us—especially when we open ourselves up to knowing lots of different people. It's easy (and often very tempting) to say "I'm too busy—I can't even keep up with the friends I have," and then close ourselves off to others. It's comfortable to stick with the people we know best—we already know their politics, their moods, their sense of humor and what's going on in their lives. But I think if we do that, we're shutting down so many paths of possibility.
- Taking time to have real conversations with people we hardly know stretches and sharpens us. Small talk is safe, which is why we so often resort to it. We want to hide the fact that we don't remember the details of a person's job or family, or we want to protect ourselves from asking a question that might end up being awkward (because the answer is "I got laid off" or "we're getting a divorce" or "she's undergoing chemotherapy"). But it's the people we don't know really well that often have the greatest ability to stretch up, opening us up to a different way of life, a new perspective, or a wider window of compassion. In order to get to that point, though, we have to be brave enough to drive the conversation there.
- It's OK to get to know lots of people that you can't develop regular, close relationships with. I used to feel guilty about all of the people I genuinely wanted to invite over for dinner but never did. I used to feel stressed by a "so many people, so little time" mentality, just as I get stressed when I look at all of the books waiting to be read. And when certain friendships have taken natural turns and faded, I've felt bad about it. But this weekend was like a snapshot into why I can and should celebrate all of these "Category 2 and 3″ friends (I wrote a post about "Unpacking the four levels of friendship" a while back). I think we need to learn to see these relationships for what they are and the value they add to our lives, rather than trying to force them into a different shape or shut them out all together.

Similar Posts: