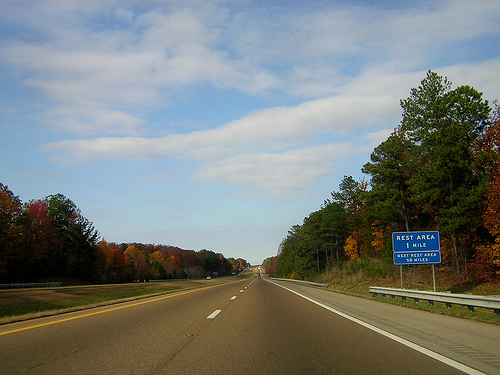 Unity is a tough thing to write about. First of all, I'm not sure I know what it's really like. It's more like a destination I've circled on a map—it sounds like a really great place and I've gotten glimpses of some pictures of it, so I definitely want to head in that direction. It's just turning out to be a rather long journey, complete with more pit stops than I expected.
As a kid, it was easy to hitch a ride with my parents, propelled by the momentum of 1970s Kumbaya. By the time I turned 18 and was heading off to college, I pretty much thought we had arrived at our destination. College was just going to be more of that, because I was going to a Christian college (chosen mostly because it was bigger than my high school and had a journalism program). I figured it would probably be a lot like the beloved United Methodist summer camps of my childhood, just with more homework. No, I wasn't quite sure who John Calvin was, but that couldn't matter much. Christians are Christians, right?
My "all Christians are essentially the same" mentality manifested itself in a variety of ways. I had the idea that whatever version of the Bible floated your boat was a fine way to access God's word, that women could become pastors just as easily as men, that the greatest way to show your love for God was to love and serve the least of these, and that Christians were mostly Democrats.
Bible studies that make you cry and other realizations that all Christians aren't all the same
Needless to say, my brown-haired, Living Bible-reading, feminist, anti-Bush self wasn't universally embraced upon my arrival on campus. On the first day of class, my religion professor banned my Bible, making the purchase of an NIV Study Bible a class requirement. A few weeks later, a guy in my dorm Bible study made me cry after he explained predestination (and how I could probably tell I wasn't one of the chosen ones).
I still longed for my old notions about Christian unity, but not bad enough to put a Bush for President sign in my dorm room window, or to believe that the universe was created in six, 24-hour days. Ultimately, I had a great college experience, thanks to fabulous academics and interactions with some truly wonderful people, but it was all predicated on finding others who were "like me" and hanging tight.
What's wrong with this picture?
It's funny, now, to look back on my childhood version of "unity." There's a part of me that would love to take little vacations in that oh-so-simple world, where "Christians are just Christians" and everyone is all about love. It would be like slipping away to an exotic spa for an hour, forgetting all of the cares of the world and basking in a momentary reality that's too good to be permanent. But that isn't real unity, any more than living your whole life in a spa would be truly satisfying.
My teenager version of unity worked not because people were working hard to overcome differences and find powerful common ground, but because we were all essentially the same. The unity my progressive friends and I fabricated in college wasn't real unity, either, even if it did provide important friendships and growth. We loved getting into intense "debates," but the reality was that we all pretty much agreed on everything, which is why we were hanging out together in the first place.
Maybe true unity demands differences
In Ephesians, Paul shows us what unity looks like, and it doesn't necessarily look like a group of people who agree on everything. In fact, Paul is addressing a group that includes both Jews and Gentiles, and they weren't joining together just to play softball or start a business—they were focusing on the very thing that divided them most, and starting a church.
Surely, if they were to accomplish such a crazy thing, they'd have to start by abolishing their differences, right? That seems like a reasonable route to peace—debating every last detail (and bullying, where necessary) until everyone is exactly on the same page. But instead, Paul suggests this:
Be completely humble and gentle; be patient, bearing with one another in love. Make every effort to keep the unity of the Spirit through the bond of peace.  ~ Eph. 4:2-3
It's about humility and patience, not proving right and wrong. It's about relying on the Spirit to bring peace and unity, not on our own skills, intelligence and strategies.
This whole faith movement was built on the principle of embracing, incorporating and celebrating differences. And it wasn't just a nice idea. It happened. It worked. Not the way things work just because we try really hard and put all of our effort into it, but in the more mysterious way things work when we are open to trusting something bigger—the one who daily, liberally pours out grace on us to extend to others.
(By the way, this post is a part of the Rally to Restore Unity organized by Rachel Held Evans. There's lots of great related stuff to check out on her blog!)

Similar Posts: