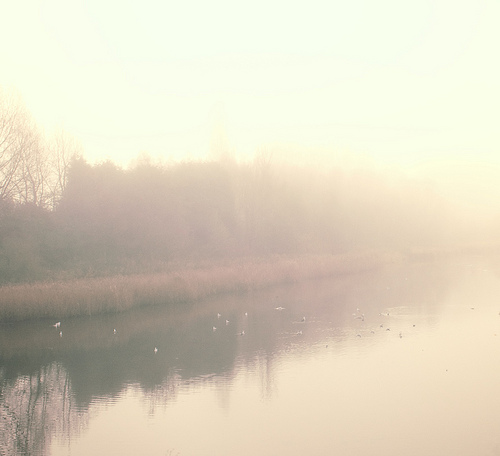 Last week's near-90 temperatures took early May by surprise and prompted women of all ages to shave their legs and dig out their shorts. When the house hit 80 degrees, we even resorted to running the air conditioning (something I'm opposed to doing before June, on account of some energy-saving principle I inherited from my dad).
But then it was the cold that took us by surprise (how quickly we forget). Jason and I were in shorts and t-shirts at H's track meet, not prepared for the chilly breeze that greeted us. Today when we got up, our house was only 60 degrees (not because we're trying to conserve energy, but because our furnace has been shut off for maintenance).
Will we ever feel comfortable in transition?
It is a time of transition. I feel it in every part of my life, from my cold fingers to the low-level anxiety that hovers over me. Jason feels it too, as he fluctuates between preparing the garden for summer and searching for a job. The kids are also stuck in a neither-here-nor-there place, hyped up by thoughts of summer break and stressed by the work that lies between today and the last day of school, two weeks away. S is both sad to be finishing her last year of elementary school, and poised to move forward.
You're probably going to be surprised by where these thoughts took me (I know I was)—to a song I used to love when I was probably 12: "The Now and the Not Yet" by Amy Grant. That's right, I went through a Christian Contemporary Music phase, and apparently it had an impact because the words to this song have been going through my head (the full lyrics are here):
No longer what we were before,
But not all that we will be….
No longer what we saw before,
But not all that we will see….
But I'm caught in between
The now and the not yet;
Sometimes it seems like
Forever and ever,
That I've been reaching to be
All that I am,
But I'm only a few steps nearer,
Yet I'm nearer…
Coming to terms with the "now and not yet" of life
It's interesting to me that I loved that song when I was in middle school, a time of life that's all about being neither here nor there—neither child nor adult. And it's interesting that, 25 years later, I have a blog about being "halfway" somewhere, with a tagline that reads "Finding myself neither here nor there."
Then there's my church, which is sensing that God wants to do "a new thing" in us—but what? We are no longer what we were, but how do we move toward what we are to become, if we don't know what that is? My personal theology has shifted over the past few years as well, to one that is all about how we must work to bring heaven to earth, rather than work to get to heaven. We are in transition, suspended between the two.
I know the school year will end, and summer will eventually arrive in full-force. But what about the bigger in-betweens? Some days it feels exciting, this idea of striving toward something more, even if it's somewhat unknown. But other days, I just don't like it. It's exhausting, you know? I want to put my feet up and know I have arrived somewhere. I at least want to wipe the fog from the mirror and catch a glimpse of what God has in store.
For now we see in a mirror dimly, but then face to face; now I know in part, but then I will know fully just as I also have been fully known. ~ I Corinthians 13:12
Similar Posts: