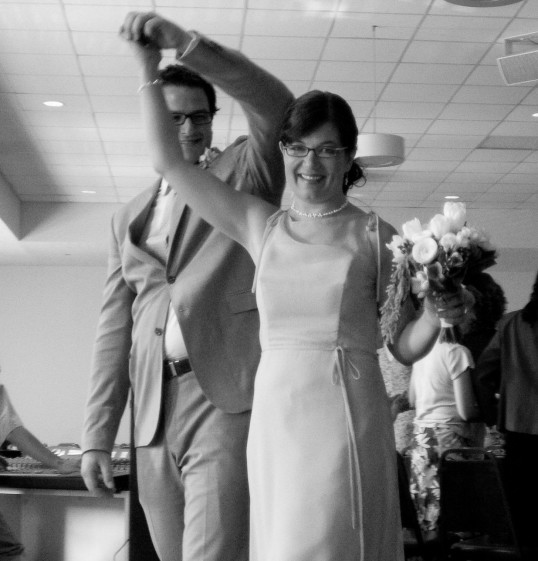 I've never worked on a potter's wheel, but this is how I imagine it works (and no, I am not thinking of God as the potter and us as his clay, so you can set that metaphor aside):
You have a general idea of this vessel you want to create—whether it will be round and squat or tall and sleek. Then you get started with the clay on the wheel, taking the vision in your head and trying to translate it into something real in your hands.
Sometimes it works just how you imagined. Probably more often it takes on a life of its own, turning into something not quite what you set out to create. To some extent, I bet the potter can reshape as they go, pushing and pulling the clay into the shape they want; the end result is close to the original vision, but it has its own character, too, and is more real than the concept in your head ever was.
But other times, I bet the potter fights and argues with the clay. It just won't be coaxed into that new shape because it started out all wrong. The wheel needs to be stopped, the lump of clay needs to be removed—tossed back where it started—and the potter needs to go take a walk, get a coffee or talk to a friend.
Is starting over a moment of defeat?
It probably feels like defeat, that moment when you take the clay off the wheel, squish it back into a lump and toss it aside. But it's a critical moment of letting go.
Six years ago, after years of trying to shape my ideas of God, faith and church into something I could live with, I gathered it all up and tossed it aside.
It was about the same time that I took my ideas of love, marriage and commitment off the wheel, where I had tried in frustration to reshape them. I didn't need church. I wasn't sure I needed God. And I was positive I would never believe in the idea of marriage again. What was the point?
Walking away, so that later you can return
It's a scary place to be. I know my parents and other people who love me were scared for me, as they looked helplessly on from the side. But now I know I had to reach that place. To continue to work and rework those shapes with that same clay had become an exercise in frustration and failure. I had to turn the wheel off and walk away for a while.
Then God brought me back. I didn't realize I was ready—or that I ever would be—but he did. He led me to a whole new pile of clay to work with, at a church called New Covenant Fellowship. There, at that church, was Jason. Together we reconsidered what love and marriage and commitment were all about, giving it new shape.
And four years ago, today, I did what I didn't think I'd do again: I stood in a church I loved and promised to live the rest of my life with this man I loved. I wore green, because we—our love for God and each other—were a new creation. The old had gone, the new had come. (2 Corinthians 5:17)

Similar Posts: