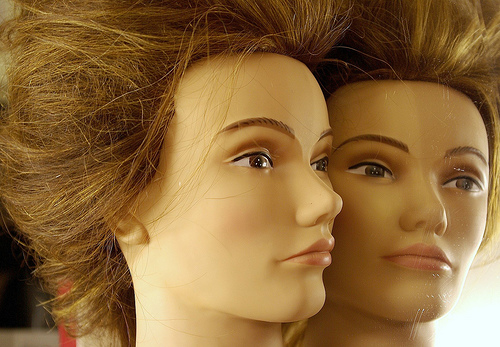 A year ago today I turned 40. Crazy, eh? (And yes, that means today is my birthday.)
Turning 41 is nothing special, for sure. You've gotten over the shock of 40 and are still nowhere near the tipping point toward 50. But it still seems like a good day to ponder aging. It's also Women's History Month, so it's a particularly good time to think about what it means to age, as a woman.
Physical beauty has actually been on my mind ever since I read Rachel Held Evan's post "Thou Shalt Not Let Thyself Go?" last month. The post is about the responsibility women have (or don't have) to remain beautiful and sexually available to their husbands. The cultural message, Rachel says, is this: "Stay beautiful or your husband might leave you. And if he does, it's partially your fault." Many have even suggested, over the years, that it's a biblical directive—an incredibly damaging idea that Rachel's post demonstrates is false.
But the idea is prevalent in our culture, whether spoken aloud or kept to ourselves: Women feel a responsibility to be beautiful in a way that men don't feel a responsibility to be handsome.
Acknowledging the complexity of beauty
It's hard for me to pick through the complex web of self-image and media image, of what makes me feel happy with me and what makes me wish I was somehow different. Because I appreciate beauty, and I don't think that's just the world telling me I should. I don't browse fashion magazines, I don't watch TV, but I do believe I was created to enjoy beauty.
I feel better when I exercise and like how my body looks. I enjoy finding the perfect pair of eyeglasses that fit my face and personality. I love clothes and shoes—when I stumbled upon a pair of purple boots at a secondhand shop on Sunday, I was giddy. And I have to admit, when Jason looks appreciatively at me and makes his funny, complimentary comments, I am pleased. I'm not going to toss the idea of beauty or pretend that it doesn't matter, on some level, to me.

Broadening our definitions of beauty
The problem creeps in and takes up residence, I think, when our understanding of beauty is too narrowly-defined, and doesn't leave room for the progression of life. Can we broaden how we see beauty, and be beautiful with grey hair? Can we see beauty in the stretch marks that formed when we carried our babies in utero? Can laugh lines (often known as "wrinkles") around our mouth and eyes make us more beautiful, not less, because they tell a story about who we are and where we've been?
My answer to those questions, not surprisingly, is yes! And I thank God every day that I'm married to a man who wholeheartedly believes the answer to those questions is yes.
But if I really examine my heart, I realize saying "yes" (and even hearing "yes" from Jason) is not the same thing as fully embracing "yes." I have some work to do in that area; as I age, that work will become increasingly important. There are a lot of lies to overcome, some blatant, some subtle. The lies can be hard to identify and trace, because some of them are in our heads, some are being spoken by people in our lives, some are told in magazines and movies.
It's hard to tease apart the difference between cultural ideas of beauty and the kind of physical beauty that lines up perfectly with who we are in the depths of our minds and hearts, and where we are in our lives. But I think, at 41, I'm ready to give that full body-mind-spirit beauty alignment a try.

Similar Posts: