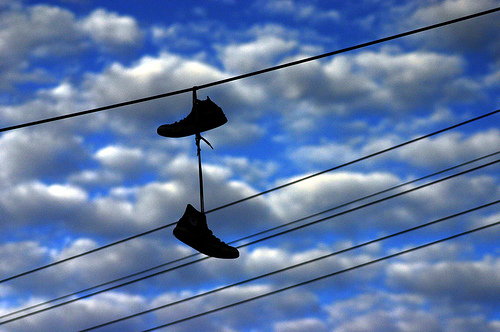 A week ago I was pushing myself to focus on the positive, forward momentum of "What's next?" but this week the theme felt much more like "What next?!?"
It all started when I dropped my iPhone in the toilet, not five minutes after arriving in Michigan for a four-day work trip. If you have a smart phone, you know something about how reliant you can become on that little device—the one that holds your entire calendar and all your contacts, and fits so neatly in your back pocket (and slips so handily out when said pocket is no longer anchored on said rear). And if you're sort of tech savvy like me, but not really tech savvy (like me), you might be the sort of person who puts all kinds of important info in your phone but almost never backs it up on your computer. (If you are that person, please remedy that immediately.)
But "What next?" is the question you ask after a string of misfortunes, so it really isn't accurate to say "It all started when I dropped my iPhone in the toilet." It's possible it started a few months ago when all eight tires on our two cars needed to be replaced at once, or when our two-year-old dishwasher started making a whole lot of uncomfortable noises for a few weeks before calling it quits.
Then the biggest shoe drops
The news Jason shared with me less than two weeks ago, though, topped everything: He had been laid off from his job. The job he had (and worked his butt off at) for 10 years. That's what inspired me to write this in my "What's next?" post last week: "…when I'm willing to lift up my head, open my eyes and ask 'What's next?' I am choosing to claim momentum and hope. It's a willingness to trust that something good can be ahead, no matter what disappointment seems to be blocking my path."
I think I was doing a pretty good job claiming that hope, but as I saw my phone falling out of my back pocket, tumbling toward the toilet water as if in slow motion, as my brain raced to catch up with what was happening and my hand plunged into the toilet water, "What's next?" took a turn toward "What next?" I felt numb, in a way that suggested no bad turn of events could surprise me now.
The next three phoneless days left me disoriented, wondering what I was missing and how I could be reached if needed (how's that for a first world problem?). When it became clear that my phone—which had been buried in a tub of rice for more than 48 hours—couldn't be revived, I bit the bullet and bought a new one. Then I got on the road for my five hour drive home.
What's done doesn't always feel done
But did I put the incident behind me? Oh no. I spent hundreds of minutes behind the wheel beating myself up, both for killing the phone and for not regularly backing it up. And then I spent hundreds of minutes worrying about what was lost—what couldn't magically be retrieved. Such an effective use of time, right? Regretting and worrying over things that can't be undone.
But do you know what? As soon as I stopped driving and thinking, and started moving forward in practical ways—downloading apps onto the new phone, collecting contacts, entering items on the calendar (at least the ones I could remember or track down via email)—the regret and worry began to fade. I just had to get out of my head—to cut loose the beast that followed me so many miles down the road, feeding me spoonful after spoonful of worry until I was bloated and immobile, an easy target for whatever shoe might drop next.
Jason seems to have that "moving forward" technique down much better than I do, so I'll try to follow his lead. Maybe all the shoes that are going to drop for now have already hit; maybe not. It really doesn't matter, as long as we stay limber rather than sit around making ourselves easy targets.

Similar Posts: