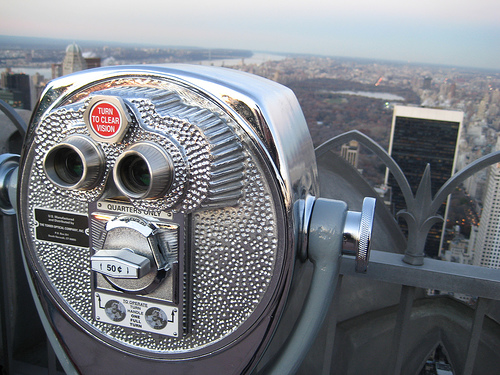 "OK, what's next?"
If you're a fan of the TV series The West Wing, you might recognize that phrase as the mantra of the show's fictional US president, Josiah Bartlett. He says it repeatedly, often impatiently—What's next?—in a manner that's often dismissive and abrupt, but also admirable. He doesn't want to dwell on the past, or even on what might be consuming his staff in the present moment. He wants to point his eyes and feet forward, and keep moving.
Jason and I both watched most of The West Wing's 154 episodes individually, before we met, so we recently decided to start over with Season I, and watch them together. In an early Season II episode, comprising many flashbacks to Bartlet and his staff on the campaign trail, I found myself cringing as he interrupted one person after another with "What's next?"
I cringed, because I could empathize with those staff members. I'm that person, wanting to focus on what just went wrong and analyze it, wanting to mourn what happened months ago and wallow in it, licking my wounds. I want to hit the pause button on life's endless treadmill, catch my breath, take another longing look over my shoulder, and reassess.
To look ahead is to give regret a kick in the teeth
Of course, the very things that make me respond with cringes to Bartlet's headlong, forward-marching approach are the things that make me admire it: I lack that type of momentum and fortitude. When life gives me a sidelong swipe, the wind gets knocked out of me and I want to lie there longer than I probably need to, faking an injury worse than the one I got.
I'm not suggesting that history isn't important—we definitely need to examine it and learn from it. I just know I have a tendency to become bogged down and consumed by "what was" in a way that doesn't ultimately deliver wisdom and insight for "what's next."
When I forget to ask "What's next?" I am usually choosing to focus on anger, blame and regret; when I'm willing to lift up my head, open my eyes and ask "What's next?" I am choosing to claim momentum and hope. It's a willingness to trust that something good can be ahead, no matter what disappointment seems to be blocking my path.
Learning to welcome winds of change
I'm not ready to go into details, but I really need to claim the promise of "What's next?" in my life right now. To be honest, a big part of me longs to climb into bed and pull the covers over my head for several days, even weeks.
But there's another feeling that's gaining ground in my soul. It's a stirring of hope reminding me not to fear the winds of change, because, as I wrote in that post, "I should know by now that when my life shifts in a way that seems bad, I should prepare myself for something good."
I'm going to do my best to lift my head, claim that truth, and ask "What's next?"

Similar Posts: