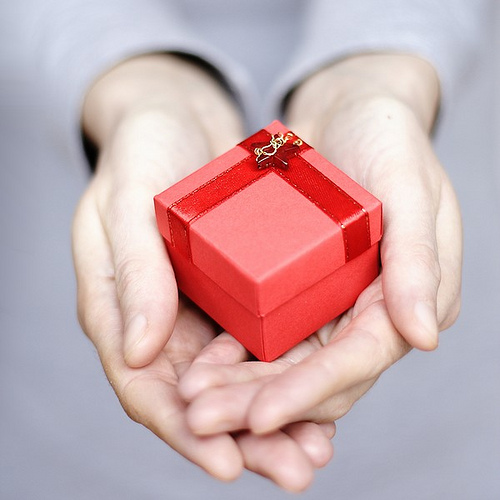 In a perfect world, this was supposed to be a New Year's Day post—my take on looking back, looking ahead, being grateful, etc. Then life went amok, as life is prone to do, and I was left thinking "Shoot, I missed my window of opportunity."
But I'm tired of letting life dictate the windows, all the while throwing obstacles in your path making it nearly impossible to reach those windows before they close. I really like the idea for this post, and I'm going to publish it anyway.
As I was looking back at my 2010 posts, pondering what kind of "year in review" post I might want to write, I was drawn again and again to the comments, not the posts. So many of you inspire and encourage me regularly, pushing my thinking in new directions and turning my monologues into conversations.
Highlighting just a handful of you is a dangerous proposition (where to begin—and end?) but seeing as how today is the Twelfth Day of Christmas, I think I will raise my glass to 12 of the many of you who have been gifts to me in 2010. Included in this dozen are those who identify as Christians, Jews, atheists, and agnostics; those in their 20s, 30s, 40s and 50s; bloggers and those who could have blogs if they wanted to; people who are married and single, with children and without; and residents of both coasts and every region in between. They have contributed much to the conversation here in the past year—these excerpts just skim the surface. I hope you enjoy their voices as much as I do.
Please note: There are at least 50 of you I'd love to feature, so I've decided I must make this a regular post. Also, most of the comments below are not quoted in their entirety. To see the comments in context, follow the links to the original posts.
Meredith (Ordinary Mer)
That statement is exactly why I hope you continue to write posts like this and continue to try to counter the perception of the "ignorant, intolerant, homophobic" Christian. As a twenty-something who walked away from religion precisely because of people like that, I'm so glad there are people like you to help me see that there are progressive Christians and that those who yell the loudest almost never speak for the whole. (In response to Christianity could use some Goo Gone)
Ray Hollenbach (Students of Jesus)
Thanks for your post: it's thought-provoking, and I think it points out one of the great failings of our 21st century North American culture. I'd like to suggest that within the Biblical view of life, listening and action cannot be separated, like soul and spirit: we haven't really listened if we are not moved to action. In fact, James, the brother of Jesus, suggested that when we train ourselves to hear without doing we are, in fact, deceived. Seems to me there's a whole lotta deception goin' round. (In response to Listening beyond the conversation)
The Modern Gal (The Modern Gal)
I've become so frustrated with the general tone of our country's discourse. It is SO negative, with people shouting their opinions but refusing to listen to others. I wish people were more concerned with building others up and acknowledging that we're all different than making everyone think their opinion is the right one. (In response to What sort of residue are you leaving on others?)
Genevieve (The Alchemist)
I agree that being loved for who you are and what you bring to the table is a huge part of keeping youth at Church. But hear me out on this: speaking as an ex-Christian, a large part of it is just a coming of age, starting to think for yourself thing. You hit that point where you ask yourself, "Now, do I really believe these things I've been taught?" and many teens and young adults leave at that point because the answer is no. It isn't always some offense the Church has committed, or the small-mindedness of the powers that be (though that's often a factor). Sometimes it's just a conscious, well-thought-out choice. (In response to What do we hope our kids will get out of church?)
Susan (Creative Guide to Life)
I like that. That healing doesn't look like what we think it will. Emotional healing is usually a painful process yielding beautiful results. Much like physical pain. Often it's shedding layers of crusty, preconceived notions that leaves us scarred, until we realize the scar is more like a cure. Maybe the scar/cure is realizing we're going in a new direction in life, leaving behind destructive relationships, starting new. (In response to What does healing look like?)
Dan J
My goal is not to eradicate religion from the face of the planet (Okay.. maybe it is a little), but to show that in order for the people of the world to live in peace, we can't use the strict religious interpretation of any particular group to be the stone tablet on which the rules are written. I hope I haven't rambled too long, and I hope that even if we can't see eye to eye, we can at least get along reasonably well. (In response to Christianity could use some Goo Gone)
Cheryl Ensom Dack (Living in a Beautiful Mess)
That was beautiful, Kristin. Made me teary. Something so tender and deeply true there. I think it's the way your "good Samaritan" cut straight on through appearances/self-consciousness/expectations and even customary behavior to relate to you. That's how children are, and it's how I want to be more of the time than I am.
The "persona" that we as adults have learned to wear (the image we project of ourselves as we go about in our lives) might help us get jobs, cause people to respect us, help us get what we want (or think we want) and even win us "friends." But at the end of the day, what children and your good Samaritan are best at—just being themselves—is what touches our hearts most deeply, what creates the most tender of connections and what truly makes us human. (In response to Monday's unlikely Samaritan)
Jennifer (Hollyhouse Studio)
When did the church appoint itself judge and jury over people's lives? People have NO IDEA what kind of pain others cover up in order to look good at church. … The church is meant to be a place of love, growth, teaching and fellowship. Not condemnation, judgment and hate. Clearly, there is still a need for your writing because we have not reached a place of extending grace to others. Can you tell you struck a nerve? This fires me up like nothing. … I am thankful that God loves you, in your humanity, and that you did not run so far that you couldn't hear him calling you home. Well done friend. (In response to Is divorce something we need to confess?)
ed cyzewski (In a Mirror Dimly)
I feel like this post is a great example of resurrection in everyday life. Your insights about the non-existent dumpster are spot-on. There comes a point when our only options are suppression or healing. Perhaps we need suppression for a period of time, but in the long run, healing is what we need most of all. Thanks for sharing so personal a story. (In response to Dumpsters, an apology & a chance to start again)
Kirstin
I was surprised by the hole my grandmother left when she died two years ago. It wasn't unexpected: she was 98, and while she didn't have Alzheimer's, she had been gently fading for a few years. Still, it hit me hard, in a slow-release kind of way. Grieving for my mother had been hard, too–but complicated, in all the ways that relationships between mothers and daughters can be complicated. Grieving for my grandmother was hard in its simplicity. I loved her, and she loved me: whatever I did, I always knew she was unconditionally (if not always uncritically) on my side. (In response to Talking to my kids about death)
Laura (chambanamoms)
You have hit the proverbial nail on the perception issue. Society tells us that we have to be segmented by our ages. Look at magazine covers – beauty/sex/love at 20! at 30! at 40! Because we are really so different. The fact that you are "more myself and more content with my life than I have ever been" means more than any number. (In response to Changing how we see 40)
Suzi (who sometimes goes by Sarah Louise)
As I begin to get back into writing, it is a struggle–how will I convey my faith in my writing, whether in front or between the lines or a little bit of both. It is good to have people with whom you can bounce these questions to and from and around. Thank you for being one of those people. (In response to Sanitizing church & state)
Similar Posts: