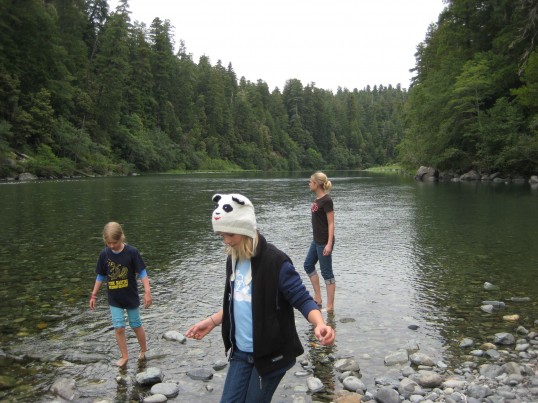 Q (in panda hat) with her sister and stepsister
Do you see those kids? They're real people with stories, not statistics.
I'm a little emotional about this. In my piece at the Huffington Post last week (Is Conflict Resolution the Wrong Goal?), a commenter who seems wholly intent on making people feel bad about divorce (which is something that inherently makes you feel crappy all on its own), felt the need to suggest that divorce is the result of a lack of commitment, and children are worse off because of divorce. She/he goes on to link to "numerous scientific studies" that show how divorce harms children, and how stepparents make things worse for the kids, not better. (If you feel inclined to expose yourself to the assault, you'll have to do lots of scrolling—she/he left numerous comments in response to me and others.)
I responded once, but will not respond again. I usually have a pretty good sense for when dialogue—especially on-line dialogue with someone I don't know—needs to be shut down, even if there's a part of me that feels like fighting the fight for the win. But I did begin writing my next, hypothetical response in my head, so I thought I'd get it out here:
Statistics don't move me, because my family is not a statistic
There are plenty of statistics out there. Anyone with enough time on their hands can find the ones that will support whatever their personal argument is—they can even form their own studies or find "experts" who are willing to produce perfect data for them. I am not interested in "scientific" studies and data. I am interested in real stories.
I am interested in my story—the story of my children, my divorce, my remarriage. I am interested in your stories, too. They don't have to sound like mine or come to the same conclusion as mine. You just have to be open to sharing them. Those individual stories about real people and real divorces—those matter, so much more than any 1,000 people surveyed.
In my story, divorce eventually emerged as the lesser of two evils. What I mean by that is divorce is never an ideal solution, but sometimes, after lots of counseling and other solutions are pursued, it can be the best solution. There was a time when I didn't know whether that would turn out to be true, but it has. My children and stepdaughter are more happy and whole and sure of who they are now than they ever were when their parents were in unhealthy marriages. My ex-husband and I have both remarried, and we are also more happy and whole and sure of who we are.
Each of the kids has four parents who are wise, loving and completely devoted to the kids' best interests. I can see the best traits and qualities of each parent coming out in each child. And all of the parents have figured out ways to work closely together as parenting teams.
My own story might sound too rosy to be true, but people who know me and my family know that it is true. Most of them also know that there's been plenty of darkness on the way to this happier place. It hasn't been easy, it's not perfect, but it's still a redeemed life.
Happy Birthday to a child of divorce
My firstborn, Q, turns 13 today. It's hard to imagine where those years have gone, and it seems nearly impossible to trace what has transpired between the day I gave birth to her and this day. Almost everything about my life has changed, from the state I live in to the man I share my life with.
I will never forget the day we told Q that Mama and Papa were going to live in separate houses. She was five, and it was the most heart-wrenching experience of my life. I'm sure this is the image people like my Huffington Post commenter want to shine the spotlight on. But that's not the whole story.
As I look at Q today, moving gracefully through seventh grade (the year that I was most miserable as a kid), I am in awe. She is kind, fun-loving, thoughtful and helpful. She figure skates, runs cross country and plays her violin with a determination and enthusiasm I envy, and she reads books faster than the library can supply them. Q is confident and modest, and knows how to laugh at herself and comfort others. Sure, she has her "moments," without a doubt, but she knows without a doubt that she is loved, and she sees healthy examples of love all around her.
Tonight we will go out to dinner to celebrate Q. It's a family tradition—Jason and I, the girls, my ex-husband, and his wife. We will sit around a table and eat Chinese food, family style, and I will marvel at how much Q has grown and how far we've all come.
That's not my scientific study. That's my story.

Similar Posts: