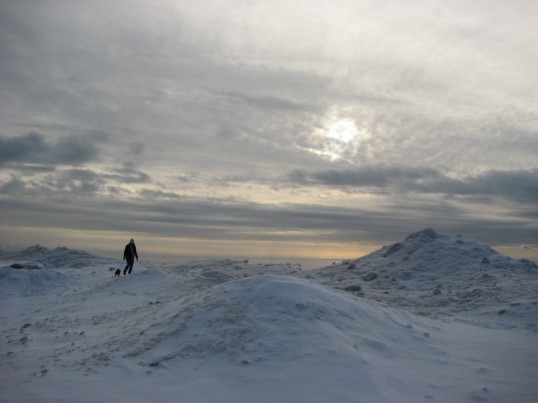 Photo of me and the pup taken by Jason
We just spent the weekend in another world.
Well, it was only a four hour drive away, it was still cold, and we did all of our own cooking and dishes. But it was still a change of scene—an adventure!
We stood on the frozen waves of Lake Michigan, surveying a starkly beautiful landscape that included no other human life as far as the eye could see. We remembered what silence sounds like, and how stillness feels when it envelopes you. The girls pretended they were Arctic explorers, and I imagined what it might feel like to stand on another planet. Then we all cozied up by the fire back at the cottage, playing board games and drinking tea and cocoa.
It was hardly an extravagant or tropical getaway (it was colder and snowier than home), but it was a true getaway. Sometimes that's all it takes to refresh you in significant ways.
What's the difference between an escape and a getaway?
It might seem like the words "escape" and "getaway" are synonymous, but I think they definitely carry different connotations. In movies, "escapes" are harrowing—they leave you shaken, weak and just grateful to be alive. Getaways, on the other hand, seem glorious and exciting. They make you cheer, filling you with fist-pumping energy and optimism, ready for whatever is next.
In the days leading up to our little trip, I kept referring to it as a "getaway" rather than an "escape." I started wondering about my choice of words. Was I trying to hide the escapist's desperation that undoubtedly lay behind our plans for the weekend? I can't deny that I wanted to escape the trappings of home for a few days: the stacks of mail, the obligations, the kid schedules and taxiing, the clear 3G network signal always calling to me from the phone in my pocket.
The annoying thing about "leaving the stress behind" is that all of those things inevitably seem to be waiting for you when you return home. That's something you can generally count on when you try to escape, whether via travel or a massage, exercise or alcohol: The things you most wanted to distance yourself from are still there.
With the right method & mindset, getaways are good
But that doesn't mean it can't be healthy to put some distance between yourself and those centers of stress. It just depends how you go about it—both in terms of method and mindset. I have to ask myself if I'm gravitating toward something destructive or something that builds me up, like laughter, a healthy friendship, exercise or rest.
And I need to examine whether I'm seeking it with the hope that all of my problems and stress will magically disappear while I'm away, or with the hope that I will feel refreshed and able to face life with new energy and a healthier perspective when I return. My friend Lisa put the distinction like this: Is it more about what you're turning away from, or what you're turning toward?
I think my sense of things upon arriving home last night is a good sign that I had just enjoyed a getaway, not indulged in an escape. Here's how I expressed it in a tweet:
home after a weekend away. all the work & stress are still here, but it looks different—less ominous. #newperspective
Similar Posts: