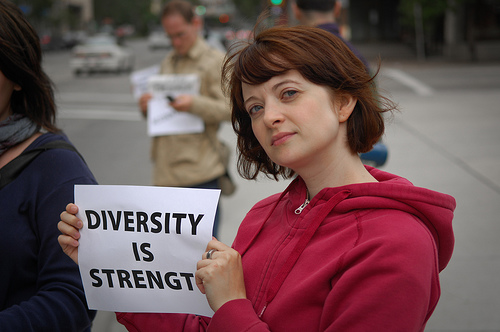 "Egypt's Muslims attend Coptic Christian mass, serving as 'human shields"
It's the sort of headline I find impossible to ignore—it's packed with intrigue as well as the promise of being the sort of story we hear all too rarely in today's world. You mean people who disagree—who are fundamentally different—can set those differences aside to help and protect one another in a significant way?
The story below the headline does deliver on that promise of hope:
Egypt's majority Muslim population stuck to its word Thursday night. What had been a promise of solidarity to the weary Coptic community, was honoured, when thousands of Muslims showed up at Coptic Christmas eve mass services in churches around the country and at candle light vigils held outside.
From the well-known to the unknown, Muslims had offered their bodies as "human shields" for last night's mass, making a pledge to collectively fight the threat of Islamic militants and towards an Egypt free from sectarian strife.
"We either live together, or we die together," was the sloganeering genius of Mohamed El-Sawy, a Muslim arts tycoon whose cultural centre distributed flyers at churches in Cairo Thursday night, and who has been credited with first floating the "human shield" idea.
Egyptians are all-too familiar with violence and terrorism; there, it's the Christian minority (about 10 percent of the population) that's most vulnerable to attack. Most recently, a brutal attack on Saints Church in Alexandria left 21 dead on New Year's Eve, an incident that was the final straw for Muslims who decided to organize a strategy to help protect their fellow Egyptians.
Tragedy at home
On Saturday, when I heard about the shooting in Arizona that killed six people and critically wounded U.S. Representative Gabrielle Giffords, I was horrified. I was also aware of people living in parts of the world that are braced for this type violence every day.
In the hours after the Arizona shooting, the inevitable finger-pointing began, deepening the already enormous chasm between Republicans and Democrats. And although the shooter's motives are still being investigated, local sheriff Clarence Dupnik "pointedly blamed hateful political rhetoric for inciting violence," as the Reuter's report says.
"The anger, the hatred, the bigotry that goes on in this country is getting to be outrageous. And, unfortunately, Arizona I think has become sort of the capital. We have become the Mecca for prejudice and bigotry," Dupnik said.
Bridging the gap
Can we follow the lead of Egypt, where people have realized that if they can't live together, they will die together? Can we decide to stick up for each other, rather than just look out for ourselves and those who are like us? Can we, as Americans, humble ourselves and admit that we don't have everything together here at home, even as we criticize other parts of the world for intolerance and violence? Is the Arizona shooting the final straw for us? If not, what will it take?
And for those of us who claim to be followers of Jesus: Are we willing to reexamine what it means to love, and who we're supposed to love—who is our neighbor, our brother, our sister? Because it seems clear to me that, as a whole, we're not succeeding at love. And the world needs it desperately. Now.

Similar Posts: