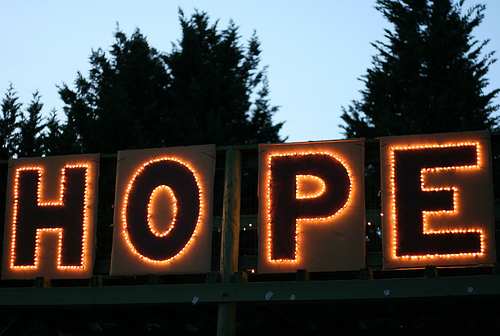 When I'm not being careful, I have a tendency to get caught up in a lot of "supposed-to's" and "shoulds" when it comes to blogging.
For instance, I'm supposed to write a post reflecting on President Obama's memorial service speech in Tuscon, Wednesday, and I should know exactly what I want to say about it. After all, it was a wonderfully moving speech on a topic I'm passionate about. I've written in the past about some of the very same themes Obama addressed: similarity and difference, polarity and unity, anger and forgiveness. Why wouldn't I follow up in some way, driving his points in a bit deeper and adding a few of my own?
Blaming laziness and fear (rather than each other)
I've been trying to figure that out the past two days, as I've avoided writing about it, and here are the only options I can  come up with: I'm either a) lazy, or b) afraid.
The "lazy" possibility is a real one. It takes a lot of energy to write about big, important, hopeful things, and I'm feeling tired this week. There's a weariness in my body that's getting some serious competition from the weariness in my head and heart.
But I think the "fear" possibility is even more real. I know—it seems kind of counter-intuitive to feel worried or fearful after you hear something inspiring and true, but it happens (at least to some people, like me). It's the kind of fear that settles into your gut when something seems almost too good to be true—when you've finally met the love of your life; when the job you've been dreaming about falls into your lap; when the leader of your country speaks the words that have been roaming restlessly through your heart for years.
Suddenly, in the face of the world's very real pain, there is so much promise and hope…and so much room for even more disappointment and hurt.
The more truth we have, the more responsible we are
Think of it this way: It's one thing to be a confused, lost person (or people), wandering aimlessly trying to find some truth and point ourselves toward it. Sure, it's not a fun state to be in, but it's at least understandable, in a pitiful sort of way.
But when you hear some truth, see a glimmer of light, and understand in your heart what needs to be done, the stakes are suddenly so high. Yes! That's a direction we can agree on—one we can journey toward together!
But what if we don't? What if nothing changes, even after someone has articulated that hope, painted a clear vision of what could be?
Maybe I'm over-stating the impact of Obama's speech, but even the headlines tell a pretty consistent story—from Obama's call for civil discourse resonates around the country and Obama works wonders as Healer-in-Chief, calls for unity to the words I never thought I'd read: Glenn Beck praises Obama for Tuscon speech.
I want my dream of what might be to overcome my fear of what has been. I want to believe these words President Obama spoke—my favorite from his address—might actually take root and change how we see and treat people who are different from us:
Rather than pointing fingers or assigning blame, let us use this occasion to expand our moral imaginations, to listen to each other more carefully, to sharpen our instincts for empathy, and remind ourselves of all the ways our hopes and dreams are bound together.

Similar Posts: