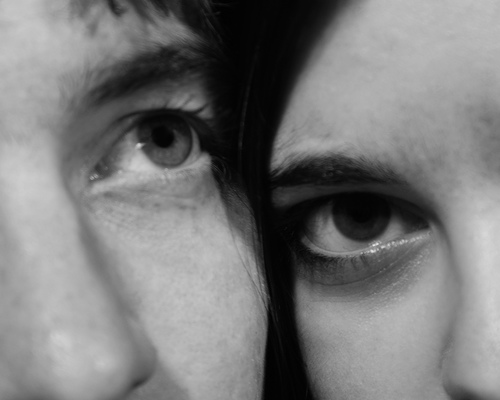 Yesterday, a friend told me his dad wants him (his son) to renounce him (the father) because of "religious differences." The dad is very involved in his church, and my friend is best described as an agnostic atheist.
While I was trying to wrap my mind around that whole thought process—what would possess a father to choose that path to make his point?—news of the Senate's failed vote to repeal Don't Ask Don't Tell (DADT) hit my Twitter stream. I felt something inside me pop and short out, as my brain and heart simultaneously revved too high.
What is going on in this world, that a father would reject a loyal son for different religious beliefs and a nation would reject a loyal citizen for different sexual orientation?
What is so scary about "different?"
Sure, these issues are not the same. One is about religion, one about sexuality; one is between two family members, another is about an entire nation. But I quickly realized the part that angered—no, infuriated—me about both issues was the same: Why are we so afraid of people who are different? And why do we think our aggressive rejection of them will change anything?
I do think this is all about fear: We are afraid of those who are different from us primarily because we don't truly know those who are different from us. In some cases, we may have an experience with a person or two of different beliefs or identity, and we assume that one example applies to all—we create a stereotype and then project it onto every (fill in the blank: homeless, Christian, atheist, Muslim, gay, African American, Republican) person we meet moving forward.
There are other paths to love besides agreement
The other issue at play here, I think, is our inability to separate love and respect from a foundation of similarity and agreement. In other words, it is easy to love and respect someone who is very much like us, to wrap all of the similarities and love into one neat bundle, and a lot more work to separate the two—to separate our opinions about issues from our feelings about a person.
Think about it like this: If I was only able to love and respect people who are like me, that group would include liberal, Christian, Generation X, middle class, educated, heterosexual moms.
But what if I think about people more in terms of qualities or characteristics I respect, rather than ideas or opinions I respect? My list of people I could love would look more like this:
I admire/love/respect people who:
…are willing to stand up for what they believe
…are able to talk about why they believe what they believe
…are in an active process of discovering who they are and embracing that self
…are working to make the world a better place
…are brave and don't let fear drive their actions
…don't use coercion or bullying to try to change people
…are open to hard questions, and the possibility of changing their minds
…appreciate the richness of diversity and seek relationships with those who are different
Do you see what's happening with that list? That list allows me to open myself to many people who might be very different from me, on paper, but who embody the qualities that are most important to me. In my case, it's possible for me to open up and embrace atheists, Republicans, homeless people and maybe even a few of those "top two percent" of wealthiest Americans with their newly renewed tax cuts.
Your list might be different from mine, but if you make it, I guarantee it will shift the parameters of your circle of love and respect, and who can be in it.
Suspending judgment (aka: extending "grace")
Of course, there is so much we don't know about any given person we pass by. We might see the color of their skin, or we might guess their age or sexual orientation, but we can't tell whether they are doing anything to make the world a better place, or whether they're open to hard questions. And that's OK. That's just another good reason to suspend judgment, requiring that we get to know someone before we decide how we feel about them. I'm convinced only good can come of that.

Similar Posts: