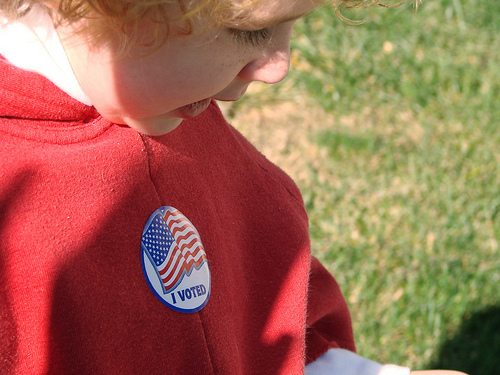 On Tuesday as we walked home from school, S immediately noticed my "I Voted" sticker. Kids have a way of sensing "important days"—there's something in the air (plus, how often do grownups get stickers for doing something good, and then proudly wear them on their shirts?).
"Is election day exciting?" S asked. I responded that I was more nervous than excited—I didn't know if many of the people I was voting for would win. Both big races in Illinois—for the governor's seat and a U.S. Senator's seat—were predicted to be very close. (As of this writing, the gubernatorial results are still up in the air.)
"What will happen if the Republicans win?" she asked, sounding a bit worried. I quickly reassured S that her day-to-day life wouldn't feel different, at least not in noticeable ways. "Then why does it matter?" she reasoned.
If nothing seems to change, why vote?
Ah, there's the real question: Why does it matter? If both sides are greedy and not trustworthy, if they both fight dirty and let ulterior motives drive them, and if, at the end of the day, no one can affect real change that we can see and feel, why does it matter?
I'm sure that's what kept many people I know from voting at all this year. Who cares? What's the difference? Why bother?
It's not an easy thing for an adult to grasp, let alone to explain to a child. But there were issues surrounding this year's gubernatorial race in Illinois that helped crystallize an answer to the "Why vote" question, at least for me: Because it's not about me. I'm not casting my votes according to what's best for me.
Our responsibility to the "least of these"
I told S about minimum wage—about people who work more than one job and still go to the soup kitchen at our church to help make ends meet. I explained how real people's lives will be impacted if minimum wage is lowered (which gubernatorial candidate Bill Brady promises to do in his quest to "balance the budget without raising taxes"). I shared with S other examples of people whose lives may be affected by the outcome of the election—mostly people whose lives are already harder than ours. People with disabilities. People without health insurance. Families who live in Chicago's worst neighborhoods and send their kids to the worst schools.
I realize that balancing the budget is a much more complex issue than I'm painting it to be here, but I don't believe politics and economics are ever so complex that suffering people have to suffer more.
"It's not my job to vote for the candidates who will do the most for me," I told S. My heart was pounding in my ears as I said it. I knew it to be true, to my core. "Balancing a budget isn't just about math. It's about real people."
Identifying victims, directing compassion
On Wednesday morning, as I waited to hear who won the Illinois governor's race, I went to the gym to work out some of my anxiety and made the mistake of turning on the TV. There was the newly re-elected Eric Cantor (R-VA), talking about how wonderful success and prosperity are—that we should celebrate it, not fight it. "We in America…admire those who are successful—we've got to end this war on success." (TODAY Show, November 3, 2010)
My jaw dropped. This "war on success?" Cantor was painting our nation's most successful citizens as victims. He was calling for us to have compassion on them, and lower their tax burden. He was saying that our best chance at prosperity, in this free country, is to bow to the wealthy and hope that some of their abundance spills over on the rest of us.
No. I'm not willing for my children to grow up in that economic system. I am not willing for my children to learn that definition of "compassion." And I'm not willing to go to the polls thinking only of what benefits me.
That is why it matters. That's why I voted.
"If the misery of the poor be caused not by the laws of nature, but by our institutions, great is our sin." – Charles Darwin
Similar Posts: